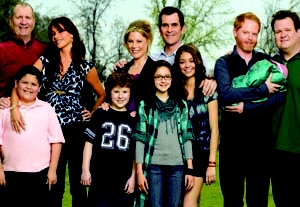 Al Bundy returns to TV with a new family. Vampires in love. A woman impregnated by a younger man. These are just some of the new shows dotting the television landscape this fall. We took a look at some of the networks' most promising series and spoke with the casting directors to see what casting opportunities actors can expect.
"Accidentally
on Purpose
,"
CBS
Casting of the leads in this premiering romcom certainly reflects a touch of genius. Jenna Elfman plays Billie, a film reviewer in her mid-30s at a San Francisco newspaper. Breaking off a relationship with a man who wouldn't commit, she heads to a bar with friends and meets an appealing 22-year-old, Zack (Jon Foster). They have a one-night stand, which puts her in the family way. (Gasp! No "protection" in 2009?)
This setup provides casting director Lisa Miller Katz the opportunity to fill many sorts of terrific roles. The newsroom must be populated with writers, editors, designers, and assistants of all stripes. Among Billie's pals are urban-professional women in their 30s. Katz will likewise need men to play Zack's cronies, primarily 22-year-old slackers. While Billie journeys through her pregnancy, casting needs might include medical practitioners—and, we're guessing, a few unconventional practitioners. Billie may be meeting other pregnant women, perhaps with partners. And we'll probably be meeting both sets of parents—not to give too much of the plot away.
Katz says the show is shot as a traditional multicamera comedy, directed in a very realistic style. "There's nothing heightened about it," she says. "It's just got a great energy; it's very fun and fresh."
In addition to working with agents, Katz accepts unsolicited headshots and résumés, but she prefers actors who have on-camera experience—and yes, she can often tell from your audition. "I'm first drawn to eyes," she says of headshots. "I love a headshot that will make me think there's something going on there that I don't immediately see on the surface—a little something I want to discover." Not surprisingly, she adds, "I like a picture and a résumé that reflect the way you look when you walk in the door. Color, black-and-white, borders, no borders—I love to be handed a picture that looks like the actor looks right now. Not, 'That was when I was a redhead,' or 'That was before I cut my hair.' " And please make certain all your information on your résumé is current.
What else can you do to help your chances? "I like when people walk in the room and they're completely prepared on every level: They've gotten their sides, they've worked on them, they've made choices about their character," says Katz. At this time no episodes of "Accidentally on Purpose" have aired, but in general she suggests you watch a series you're auditioning for. As she says, "I can tell a cold reading a mile away. I do my homework, so I think it's only fair that an actor do theirs."
She's allergic to perfume and cologne, prefers you have already stapled your résumé to your headshot, and asks that you not show off by putting your script aside to prove you memorized it. If you lose your place, let the script be in your hand so you can glance down to get back on track.
In other words, nothing accidental and everything on purpose when you audition for this promising series.
Lisa Miller Katz, 4024 Radford Ave
.,
Editorial Building 2, 2nd Floor, Suite 3, Studio City, CA 91604
—
Dany Margolies "Brothers
,"
Fox
The recession is hitting everyone, including ex-football stars. At least that's the premise for "Brothers," Fox's new half-hour, three-camera sitcom. Real-life former football star and NFL commentator Michael Strahan headlines as a retired athlete who moves back to Houston to be with his folks (CCH Pounder of "The Shield" and Carl Weathers, the original Apollo Creed of the "Rocky" films) and his brother (Daryl "Chill" Mitchell) who is wheelchair-bound after an auto accident, just as Mitchell is in reality. Colton Dunn of "MAD TV" rounds out the cast as Mitchell's restaurant partner. The comedy derives from the never-ending sibling rivalry between Strahan and Mitchell.       
Though the main characters are African-American, casting director Susan Vash, who also casts "'Til Death," points out she is open to actors of all ethnicities for guest roles, noting, "My goal is I look for funny, and I don't care what the package is in."
There is a 13-episode order for the series, which films in L.A. Vash will be casting for friends of the brothers and other guest roles. She casts through agent submissions and receives approximately 4,000 headshots for every episode, so having an individual, exciting picture to represent you is important. "The face has to speak to us in some way," Vash says, "so it just pops out at you." But the CD doesn't want you to reveal too much. She explains, "Too many actresses send in shots of themselves in bathing suits, and they seem to be all about their bodies and not being an actress, so we skip over these. One was in wet hair and lingerie, and it looked like she was auditioning for a hooker part." Another warning sign is actors who come to readings with props. "Usually they don't know how to handle them," says Vash. "Leave them at home unless you really know what you're doing."  
The CD emphasizes that you should be prepared and know what you're reading for: "If actors are reading like a Hallmark special, not a multicamera comedy, that's a mark against them." Given that you're ready to read a comic script, don't go overboard in that direction either. "CCH Pounder plays the mother, and her humor comes from reality," Vash explains. "She doesn't do set-up jokes, and that's how we want the comedy to be. Carl Weathers is also very real. Daryl and Michael are somewhat over-the-top, but they have such a great connection." Vash recently cast Danielle Nicolet as a love interest for both brothers. Says the CD, "She's funny but not in a big or cartoony way."
With the show's football background, Fox is looking to draw on its sports fan base, as well as rap and hip-hop fans. Snoop Dogg will be a prominent guest star in an upcoming episode.
Susan Vash Casting, Sony Studios, 10232 W. Washington Blvd
.,
Culver City, CA 10232. Specify
"Brothers"
or
"'Til Death"
on the envelope
.
—
David Sheward "Modern Family
,"
ABC
Casting director Jeff Greenberg knew "Modern Family" was something special when he got to Page 2 of the pilot's script. "I was laughing out loud, and that just doesn't happen," he admits. "I read a lot of comedies, and I usually hardly smile if it's funny. This was laugh-out-loud funny. I just had to do it." Before populating the Anytown, USA, of "Modern Family," Greenberg fleshed out casts for such series as "My So-Called Life," "Cheers," "News Radio," and "According to Jim." He had previously worked with series creators Steven Levitan and Christopher Lloyd on a number of shows, most significantly "Frasier" and "Wings."
Greenberg describes this new single-camera, documentary-style sitcom as an "old story told in a very fresh way," featuring a multigenerational ensemble. The series even features a gay couple, played by Jesse Tyler Ferguson and Eric Stonestreet, and their brand-new baby. "The relationships are all so complex and so real because, as in life, they're so flawed," says the CD. "This is not a 'Leave It to Beaver' or 'Father Knows Best' kind of family. These are real families, and they let all the blemishes show, to great comic effect." Even though Ed O'Neill is returning to prime time as the husband of a much younger Latina, played by Sofía Vergara, "Modern Family" is no "Married With Children."
"This has a different kind of edge," Greenberg notes. Another featured father will be played by Ty Burrell ("Dawn of the Dead"), whom Greenberg calls "sort of this goofy guy who's also a man's man." The biggest challenge for Greenberg was casting Burrell's wife, a role that eventually went to an eight-month-pregnant Julie Bowen. "[Levitan and Lloyd] said, 'Let's try to shoot the pilot and hide it.' " There was no sign of a baby bump in the series preview. "That's a real testament to our director Jason Winer," says the CD. "She's always folding a towel, carrying a laundry basket, or wearing things that are not revealing. It's very smartly done."
The parents were cast prior to the children—and for good reason. "We were very cognizant of casting kids who looked like the parents," he says of young performers Reid Ewing, Nolan Gould, Sarah Hyland, Rico Rodriguez, and Ariel Winter. "We really just handpicked every person and did a lot of mixing and matching. We wanted to make sure that there was a lot of chemistry within each family."
The series, which films at the 20th Century Fox lot in Los Angeles, will need many suburban types—including friends of the children, friends of the adults, co-workers, neighbors, gardeners, and store clerks. "It's people that you run across in your suburban life," says Greenberg, adding, "I can't wait to dive in and have great, exciting, fresh casting."
Greenberg does not accept unsolicited submissions
.
—
Cassie Carpenter "Trauma
,"
NBC
"Trauma" is an intense medical drama centering on the lives of first-responder paramedics. As emergencies unfold, the trauma team from San Francisco General will be on the scene, traveling by car, boat, and/or helicopter to reach the victims. The principals are played by Derek Luke ("Antwone Fisher"), Cliff Curtis ("10,000 B.C."), Anastasia Griffith ("Damages"), Aimee Garcia ("George Lopez"), Kevin Rankin ("Friday Night Lights"), and Jamey Sheridan ("Law & Order: Criminal Intent").
Not surprisingly, casting will cover all ages, ethnicities, and physical types. The one constant is looks that are "real," as opposed to conventionally beautiful, says casting director Linda Lowy. In addition, because the program is set in a major city, its intangible cosmopolitanism should be reflected in its actors. "It's not enough for an actor to accurately reflect the character's situation," she says. "He must also feel like he's from that part of the world." She admits that's difficult to define because there's no special San Francisco accent or style.
The acting style Lowy is working with is realistic. She likes actors who've had formal training, have theater credits, and are well-versed in their craft. In addition to raw talent, she's drawn to actors who can take direction and shift gear at a moment's notice, especially if they come in with fully defined characters. If the actor is then asked to do a completely new interpretation, "I look to see how an actor handles that," she says. "It shows fluidity in his acting."
She is also very interested in the actor's personality—what makes that actor unique—and ultimately what stamp he or she will bring to the role. Some of the roles are deliberately written as generic, and the actor's persona will "inform what we're looking for," she says.
Lowy likes actors to dress appropriately—though not costumed—for a role they're auditioning for. "If you're reading for a lawyer, don't come in sweatpants." As always, preparation is essential. "A lack of familiarity with the material is a big turnoff," she says. In addition, the chemistry among principals and actors in recurring roles is a major consideration.
Lowy wants actors to leave feeling good about what they've done and will often allow them to read again so they can give their best audition. She emphasizes that sometimes a great audition still does not guarantee landing a role. Often, an actor is just the wrong type or too closely resembles another actor on board. And sometimes an actor will not get a role because he or she is slated to be on another program the same night, she says.
Lowy does not accept unsolicited submissions
.
—
Simi Horwitz "The Vampire Diaries
,"
The CW
The undead are everywhere, as vampires take up real estate in film ("Twilight") and cable TV ("True Blood"), but now the CW gets in on the action with horror-drama "The Vampire Diaries," based on the book series that launched in 1993—predating those other bloodsuckers. The story revolves around popular 17-year-old Elena, who finds herself torn between two vampire brothers: kind and tortured Stefan and dangerous but charming Damon. Handling all this teen angst and snappy dialogue should be easy for executive producer–writer Kevin Williamson, who mined such territory (minus the supernatural element) with his series "Dawson's Creek." Also handling writing and executive-producing responsibilities is Julie Plec, formerly of "Kyle XY."
To populate the world of "Vampire Diaries," Greg Orson of GO Casting and his partner Lesli Gelles searched all over the world. But, in the end, the three leads were located in Los Angeles. Of Paul Wesley, who plays Stefan, Orson says, "He is a strongly crafted actor who we have been auditioning over the years. His work is consistently good." Playing his brother is Ian Somerhalder ("Lost"), who Orson notes "possesses a mischievous, dangerous quality that was essential in the casting of Damon." Rounding out the trio is Nina Dobrev, previously seen on the Canadian hit "Degrassi: The Next Generation," as Elena. "Nina came in for us in L.A. and then was put on tape in Toronto, where she was shooting a movie," Orson recalls. "She really lights up on camera and was hands-down the best read."
 "There will be some exciting, rich roles to cast for the series," Orson reveals. "Quite a bit of the show will be cast out of Atlanta, where it's shooting. Most likely, two or three roles per episode will be cast out of Los Angeles. As in any good vampire series, there will be myriad juicy roles to cast, including, of course, plenty of victims who will be at the mercy of Stefan and Damon. Most roles will be for young actors since the show will be on the CW."
And as for the series, Orson has nothing but praise. "Marcos Siega, our director, did an incredible job with our talented cast to create the right dark tone for the piece," the CD notes. "Kevin Williamson and Julie Plec wrote a great script. I mean, come on, it's Kevin Williamson, the creator of the 'Scream' franchise. Who better to scare you to death with his words?"
GO Casting, 6464 Sunset Blvd
.,
No. 970
,
Los Angeles, CA 90028
.