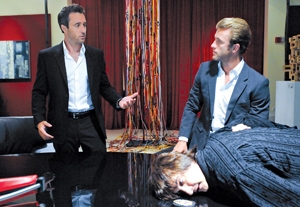 When Fox canceled its much-hyped series "Lone Star" after just two episodes, the move was met with considerable fuss. The drama—about a Texas con man leading dual lives with separate wives—had been the critical darling among the new fall network TV offerings. Its death came to emblemize the struggles that the networks have faced this fall in establishing new shows in a crowded market. As New York magazine reported, some executives at Fox "wondered whether the series was 'too cable' for a broadcast network."
"Too cable" may as well be code for "too complex." Though last fall's new ratings successes—"Glee" and "Modern Family"—pushed the creative envelope, most of this fall's breakouts, such as CBS's "Hawaii Five-0" and "$#*! My Dad Says," have formats and come from genres with long histories of broadcast success. For actors, a close look at what's working—and what's not—could provide clues about next pilot season.
PROCEDURALS WITH A TWIST
"Procedurals such as CBS's remake of 'Hawaii Five-O' are working because they are easy to jump into and beautifully shot," said Mekeisha Madden Toby, television critic for The Detroit News. "Who doesn't want to watch this show in HD, right? Meanwhile, more-nontraditional offerings, such as NBC's 'Undercovers,' aren't working because the locales look like studio backdrops and the writing is too thin to keep audiences interested."
CBS's "reboot" of "Hawaii Five-O" has been one of the few success stories this fall. At first glance, the show appears to fit in well with the network's many hourlong procedurals, such as the "CSI" and "NCIS" franchises. But according to St. Petersburg Times television critic Eric Deggans, the series has more in common with USA's hit cable dramas "Burn Notice" and "In Plain Sight" than with CBS's traditional fare.
"Those blue-sky kind of adventure-drama shows that cable has been doing recently seem to be working," Deggans said. "When I saw how popular 'Burn Notice' was, I sort of said to myself, 'Why aren't the networks trying to do that?' "
Amber Ray, television editor for Metro newspapers, agrees with the comparison of "Hawaii Five-0" to "Burn Notice" and said the former show's success could mark the beginning of something that might carry over into next season. "It seems like networks want to get away from the real serious, real gritty dramas," Ray said. "I could see that being more of a trend, these action or police dramas but with lighter, almost comedic touches."
Of course, "Hawaii Five-0" has more going for it than great photography and a not-so-gritty feel. It also has brand recognition. Most observers agree that the networks aren't about to stop rehashing old shows. Deggans pointed out that NBC has not given up on a new version of "The Rockford Files," though the network chose not to pick up "House" creator David Shore's pilot for the program.
Toby, meanwhile, sees a possible reboot on the horizon for another classic series. "If the success of 'Hawaii Five-0' is any indication, then viewers and critics can expect to see more splashy remakes," she said. "The next likely remake might be 'The Streets of San Francisco,' for instance, because the show could be updated with ease and the on-location shooting would look great in HD."
FINDING THE FUNNY

Though last season saw the single-camera shows "Glee" and "Modern Family" draw significant ratings and critical love, no such double threat has emerged in the comedy department this year. That doesn't surprise Deggans. "Comedy's hard, man. 'Glee' had Ryan Murphy; 'Modern Family' has Steve Levitan," he said, referring to the shows' creators. "Those guys don't grow on trees."
While no new comedy has won the near-universal praise received by last season's hits, one—a critical punching bag—has proved to be a ratings winner. " '$#*! My Dad Says' is just terrible," Ray said. "William Shatner tries to salvage the material, but even he can't. Every scene is just groan-inducing. It's painful to watch. But viewers are flocking to it."
Shot in a traditional three-camera format, "$#*!" could be seen as bucking the recent trend of single-camera sitcoms such as "30 Rock" and "Modern Family"—except that CBS doesn't have any single-camera comedies. According to Ray, multicamera comedies represent "CBS sticking with what CBS is known for."
But she also points to shows on other networks, such as ABC's "Better With You," as proof that the format has life in it beyond the Eye. "I'm not surprised that other networks are throwing one or two out there," Ray said. "When they work, they seem to be the sitcoms that bring in the biggest ratings."
KNOWN LEADS
The success of "$#*! My Dad Says" could be traced to its comfortable formula. It also could be traced to Shatner. According to Ray, while cable series such as AMC's "The Walking Dead" still offer leading-role opportunities to actors who aren't yet well-recognized by TV audiences, on the broadcast networks, known names are a commodity that few shows can do without.
" 'Lone Star' was a bit of a risk for Fox, and the lead in that hadn't been well-known," Ray said. "It was a bit of a risky show to begin with—the idea that this guy has two lives, two wives—so maybe people shunned it from the beginning for that reason. But nobody knew James Wolk," the program's leading man. Ray points to "Hawaii Five-0," starring Alex O'Loughlin, and "The Defenders," starring Jim Belushi, for examples of shows that are succeeding perhaps thanks in part to their headliners.
It shouldn't surprise actors that cable appears to be the place where a lesser-known performer can make a name for him- or herself by working with riskier material. For those hoping to land network gigs, the lesson for next pilot season appears to be to prepare for lighter variations on familiar types of shows—and to bone up on "The Rockford Files" and "The Streets of San Francisco."