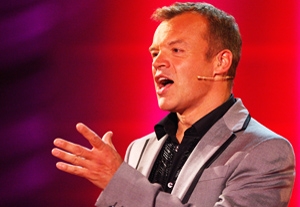 NEW YORK – British television productions received a leading nine International Emmy nominations Monday, including the long-running MI5 spy series "Spooks" for best drama and the TV talent show parody "Peter Kay's Got the Pop Factor ..." for top comedy.
Julie Walters was nominated for her role in "A Short Stay in Switzerland," based on the true story of a woman who took her own life in a Zurich clinic after being diagnosed with an incurable degenerative disease. Ben Whishaw was nominated for his star turn in the thriller "Criminal Justice," about a 21-year-old defendant accused of murder.
A total of 41 nominees from 17 countries will compete for the International Emmys, which honor excellence in TV programming produced outside the United States, in 10 categories.
The winners will be announced Nov. 23 at the 37th International Emmy Awards ceremony in New York, hosted by British television star Graham Norton. Two honorary awards will also be presented.
Brazil has five nominations, including the comedy "The Slum," followed by the Philippines, Germany and Mexico with three apiece.
Mexico's "Capadocia," set in a fictional women's prison rife with corruption, is in contention for best drama, actress (Cecilia Suarez) and actor (Oscar Olivares).
The Netherlands, Denmark, Argentina, Japan, China and France each had two nominations. Thailand has its first-ever nomination for the children's program "Lharn Poo Koo E-Joo."
"As interest in our competition builds every year, the Academy is proud to serve as a cultural showcase of television from all continents," said Bruce L. Paisner, president and CEO of the International Academy of Television Arts & Sciences, in a statement.
"We ... hope the first-time nomination from Thailand will inspire more producers from many more countries to follow in their footsteps and enter the competition."
Other contenders for best drama include "The Land of the Wind" (South Korea), "The Protectors" (Denmark) and "Sokhulu and Partners" (South Africa). The comedy nominees also include "Hoshi Shinichi's Short Shorts" (Japan) and "Turkish for Beginners" (Germany).
Walters and Suarez will be competing in the best actress category with France's Emma De Caunes for "Night Birds" and the Philippines' Angel Locsin for "The Wolf." Robert de Hoog of the Netherlands is the other best actor nominee for his role in "Skin."
David Frost, whose interviews with former President Richard Nixon were depicted in the Oscar-nominated film "Frost/Nixon," will receive the International Emmy Founders Award.
Former Secretary of State Henry Kissinger, who is German-born, will present the International Emmy Directorate Award to Markus Schachter for his outstanding leadership of Germany's ZDF television network and to commemorate the 60th anniversary of the founding of the Federal Republic of Germany.
---
Copyright 2009 Associated Press.  All rights reserved.  This material may not be published, broadcast, rewritten, or redistributed.