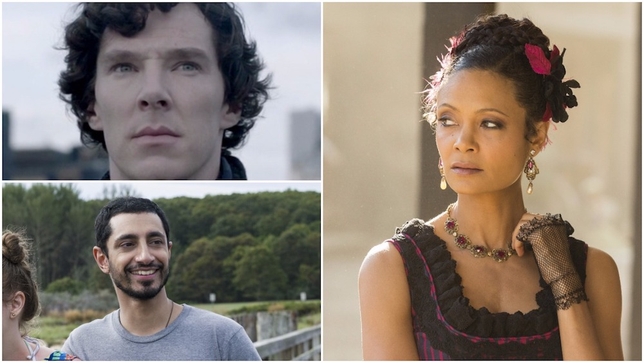 Hello and welcome back to our weekly roundup of what's happening on stage and screen.
By accident, the theme of the roundup this week seems to be 'taking over'. We'll go on to report one actor taking over a historical character from another, Blake taking over from Bond, and the Brits taking over the Emmys. But first, it's the turn of one voice actor to take over from another (who took over from the original). Confused? Let us explain.
Kermit The Frog has got a new voice. When creator Jim Henson died in 1990, voice artist Steve Whitmire took over and has been voicing the most famous Muppet in every appearance in the last 27 years. He also provides the voice of Ernie in 'Sesame Street'. But now Whitmore has been fired by Muppet Studios (owned by Disney). Whitmore was told nine months ago but has kept quiet in the hope that the studios would change their mind. They didn't. He went public and posted an open letter to fans as a blog post which has now been removed.
According to the BBC, Whitmore attributed the change to 'issues' and 'concerns' raised by the executives. He did not elaborate on what those might be. Whitmore's post said, 'I feel that I am at the top of my game, and I want all of you who love the Muppets to know that I would never consider abandoning Kermit or any of the others because to do so would be to forsake the assignment entrusted to me by Jim Henson, my friend and mentor, but even more, my hero'.
Muppet performer Matt Vogel will take over the voice of Kermit from this week.
More taking over now. Winston Churchill has been revivified yet again this year. First came Brian Cox's Shakespearean portrayal in 'Churchill', directed by Jonathan Teplitzky, and now comes Gary Oldman's rip roaring Prime Minister in 'Darkest Hour' by British director Joe Wright ('Atonement', 'Pride and Prejudice', and most recently, the not-very-well-received 'Pan'). Here's a quick breakdown of what it reveals about the film.
Gary Oldman dominates. As AV Club reports, this trailer is pretty much all him.
It already looks like an Oscar contender. As Deadline suggests, it looks like it might be time for Oldman to get some long overdue recognition from the Academy.
The cinematography is also the star. Bruno Delbonnel is the master cinematographer behind 'Amelie', 'Harry Potter and the Half Blood Prince' as well as the beautifully captured 'Inside Llewyn Davis'.
Across the ocean, America is talking about the recently announced Emmy nominations. For those of you after news at a glance, you basically need to know that HBO's hugely popular 'Westworld" is jointly in the lead with SNL. Both have 22 nominations. British actor Thandie Newton is up for Best Supporting Actress in a Drama Series for her role in 'Westworld'. Other Brits include Benedict Cumberbatch for 'Sherlock', Ewan McGregor for 'Fargo', Riz Ahmed for 'Girls', and Matthew Rhys for 'Girls' and 'The Americans'.
As it's the Emmys and it covers all TV, Gordon Ramsay is also up for an Emmy for 'Masterchef Juniors'. John Lithgow (yet another recent Churchill) is the only actor to receive a nod for Netflix's period royal drama 'The Crown', but the series is up for numerous other awards including best writer and director.
Bond producers Barbara Broccoli and Michael G Wilson have announced their intention to make a female-driven action-thriller starring Blake Lively, who will star in a film based on British novelist Mark Burnell's book 'The Rhythm Section', which was originally published in 1999. The book follows a woman who becomes an assassin to avenge her murdered family. The feature is to be directed by Reed Morano, director of the first three episodes of 'The Handmaid's Tale', who spoke of having a 'strong vision for this very compelling story driven by a female protagonist'. It's the first of four Burnell novels to feature the heroine, so it's likely the Bond producers want to turn this into a similar episodic film franchise. Production is set to begin later this year.
That's all for this week but do let us know if you've got news of your own!
Check out Backstage's London audition listings!