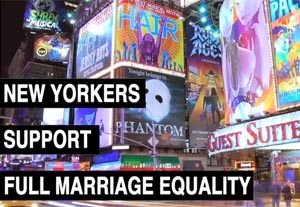 In a
video
released today by the Human Rights Campaign, Broadway actors speak out to advocate marriage equality for same-sex couples. The video features performers encouraging New Yorkers to contact their state legislators in support of the issue.
Actors in the video include Nick Adams ("Priscilla Queen of the Desert"), Charlie Williams ("How to Succeed in Business Without Really Trying"), Heidi Blickenstaff and Hunter Bell ("[title of show]"), Gavin Creel ("Thoroughly Modern Millie"), and Rory O'Malley ("The Book of Mormon"). Jenny Kanelos, executive director of Broadway Impact, an organization that advocates marriage equality, also speaks out in the video.
"Broadway is about as synonymous with New York as the Empire State Building and Joe Namath," Human Rights Campaign senior New York strategist Brian Ellner said in a written statement. "We are approaching the end of the current legislative session and now is the time for all New Yorkers to raise their voices in support for marriage equality."
The Human Rights Campaign is a national lesbian, gay, and transgender civil rights organization. Its "New Yorkers for Marriage Equality" campaign features video testimonials from such supporters as Whoopi Goldberg, Vanessa Williams, Larry King, Lucy Liu, and Sens. Chuck Schumer and Kirsten Gillibrand of New York.