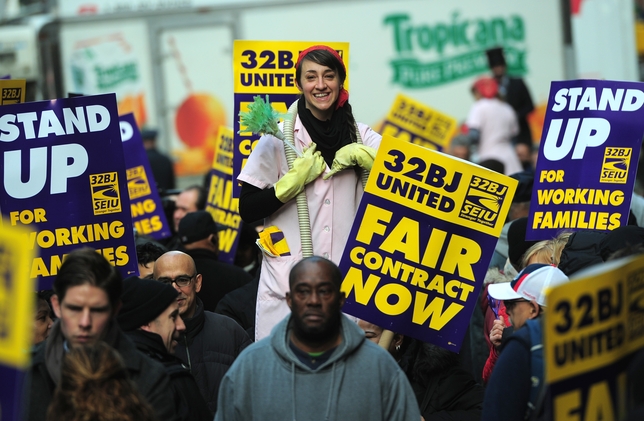 Broadway might get stuck with a lump of coal in its stocking this holiday season.

The union that represents hundreds of theater cleaners, porters, elevator operators, bathroom attendants, matrons, and other service workers at most Broadway theaters threatens to strike if it cannot reach a new agreement with the Broadway League, which represents producers and theater owners, by the end of the year.

Members of Local 32BJ of the Service Employees International Union voted to authorize the strike during a rally in Times Square outside the Broadway League's offices on Wednesday, Dec. 12. The workers are seeking improved health care benefits and pay increases.

"The sticking point is, basically, getting healthcare for the workers when they aren't working," Shirley Aldebol, vice president of Local 32BJ, told NY1. "Currently, the way the system works is that when a show closes down and the lights go out on Broadway, those workers are laid off, but when they come back, they don't get healthcare for six to 10 weeks after the show opens."

The 2011-12 season was Broadway's strongest ever, according to a report from the Broadway League, with its 12.3 million attendees and $1.14 billion in ticket grosses both representing record highs. But a strike by service workers would be a blow to Broadway's current holiday season, during which most shows see an increase in ticket sales.

The current contract expires Dec. 30. The next bargaining sessions are scheduled for Friday, Dec. 14, and Tuesday, Dec. 18.

"We have had several days of productive negotiations and have several more scheduled," the Broadway League said in a statement in response to the rally. "The Broadway League, and the members we represent, look forward to reaching a mutually beneficial agreement with SEIU Local 32BJ."

Five years ago, the union representing stagehands went on strike for 19 days, costing Broadway and the city millions in lost ticket sales and revenue. A potential strike by Local 32BJ would affect 32 of the 40 Broadway theaters, including all Shubert, Nederlander, and Jujamcyn theaters, as well as the Circle in the Square Theatre. Eight other Broadway theaters have separate contracts.