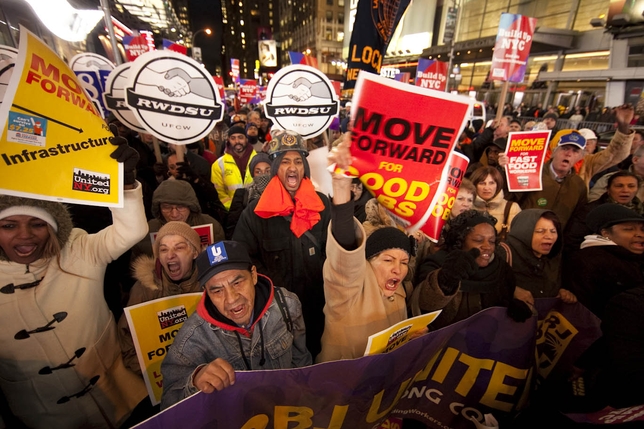 Christmas came a bit early for Broadway theater owners and producers, who might have worried they'd been put on the naughty list last week when the union representing theater staff threatened to strike by the end of the year.

The Broadway League and Local 32BJ of the Service Employees International Union announced Dec. 17 that they had reached a tentative agreement that will keep Broadway theaters open, clean, and safe for the foreseeable future.

Local 32BJ, the union that represents hundreds of theater cleaners, porters, elevator operators, bathroom attendants, matrons, and other service workers at most Broadway theaters, had threatened to strike if it could not reach a new agreement with the Broadway League, the trade organization representing producers and theater owners, before the current contract expires Dec. 30.

"After continued productive negotiations, the Broadway League and SEIU Local 32BJ have reached a tentative agreement on a new mutually beneficial agreement," Broadway League Executive Director Charlotte St. Martin said in a statement.

The union is negotiating for a new three-year contract that includes pay increases, improved health care benefits, and an increase in employer-paid pension contributions. The 250 theater staff members represented by 32BJ currently earn $17.25 per hour, which they say is one of the lowest rates among Broadway workers. The union and the league met multiple times to negotiate the terms of a new contract; the two sides were able to reach a tentative agreement at a bargaining session held Dec. 14.

"This is a fair agreement that addresses the concerns of our members, the men and women who work hard every day to keep theatres safe, clean, and running for the millions of theatregoers who come to Broadway from around the world," Shirley Aldebol, vice president of 32BJ, said in a statement. "We are looking forward to presenting and discussing the agreement with our members over the next few days."

Details of the new agreement will not be revealed until both sides vote to ratify the contract, which a spokesperson for Local 32BJ said is expected to happen by next week. An additional bargaining session had been scheduled for Dec. 18, if necessary, but the union spokesperson told Backstage that no further negotiations were needed and both sides were presenting the agreement to their members in preparation for a vote.

The 2011–12 season was Broadway's strongest ever, according to a report from the Broadway League, with its 12.3 million attendees and $1.14 billion in ticket grosses both representing record highs. But a strike by service workers would have been a significant blow to Broadway's current holiday season, during which most shows see an increase in ticket sales.

During the last major Broadway labor strike, the union representing stagehands held a 19-day walkout in 2007, costing Broadway and the city millions in lost ticket sales and revenue. A strike by Local 32BJ would have affected 32 of the 40 Broadway theaters, including all Shubert, Nederlander, and Jujamcyn theaters, as well as the Circle in the Square Theatre. Eight other Broadway theaters have separate contracts.