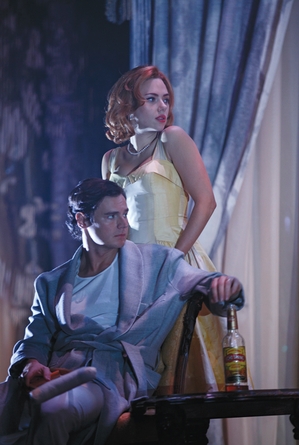 Of the eight new plays and musicals that opened on Broadway this fall, all will be closed by Jan. 6. Not even headliner Katie Holmes could keep Theresa Rebeck's critically panned "Dead Accounts" open much past the new year.
"We had some bold openings on Broadway of plays that probably should not have been on Broadway," says New York University theater instructor and Playgoer blogger Garrett Eisler of the first half of the 2012–13 season, noting David Mamet's "The Anarchist" as a prime example. "When the most famous playwright in America can't get his new play running, that's not a good sign."
Celebrity-led plays and glitzy revivals seem to be the shows of choice for Broadway producers this season. Looking to the spring, the new musicals include "Rodgers and Hammerstein's Cinderella," which will hit the Main Stem for the first time in March though is recognizable to most audiences from TV movies starring Julie Andrews and Brandy.
The original plays on the slate include an adaptation of Truman Capote's "Breakfast at Tiffany's" and Nora Ephron's "Lucky Guy," with Tom Hanks in his Broadway debut, proving that star power and familiar entities are here to stay. However, producer Ken Davenport explains that the seeming dearth of original work is not purposeful.
"Unfortunately Broadway cannot program its season like television can," says Davenport. "Sometimes producing a show is like landing the space shuttle. You only have a small window to get through."
Experts expect to see successful Off-Broadway shows from the fall, such as Lisa D'Amour's "Detroit," make appearances come April. Last spring "Clybourne Park" transferred to Broadway right before the Tony Awards consideration cut off and nabbed the top prize.
The question of new work doesn't matter that much for actors, for whom revivals can be better, as they're often star-driven and therefore guarantee work. If Scarlett Johansson didn't want to star in "Cat on a Hot Tin Roof" or if Al Pacino didn't want to do "Glengarry Glen Ross," those shows wouldn't happen, Davenport says. "A lot of people are put to work onstage and off as a result of these people coming into town," he adds.
Another popular formula for commercial success is importing West End hits, such as "Matilda," which is arguably the most anticipated upcoming new musical. While "Billy Elliot" found an audience on the Great White Way, other U.K.-born shows, such as "Sister Act" and "Ghost," were not well-received stateside.
British productions also often bring actors from the original engagements, such as Olivier Award winner Bertie Carvel as evil principal Miss Trunchbull.
"The thing about 'Matilda' is I've heard great things about the performance, but then again that's what they said about Elena Roger in 'Evita,' " says Adam Feldman, president of the New York Drama Critics' Circle and theater critic for Time Out New York. "The differences in cultural taste can make a big difference." This fall Brit Douglas Hodge and Aussie Anthony Warlow wowed audiences with their turns in "Cyrano" and "Annie" respectively, though New York actors can often feel threatened when foreign stars arrive.
"You want to balance the need for American actors and rights for American actors from a union standpoint against the long-term interests of the production in establishing a successful opening persona," explains Feldman.
The spring is proving to have some showcases for long-standing New York actors. Billy Porter and Annaleigh Ashford will lead the Cyndi Lauper musical "Kinky Boots," while Hunter Foster and Allison Case will have starring turns in "Hands on a Hardbody."
"The spring is shaping up to be a great season for the New York acting community," says Davenport, who just signed on as a producer on "Kinky Boots." "My rule as a producer is you make the show the star…. I would rather cast the best actors that I can from the New York community than have to go the star route."