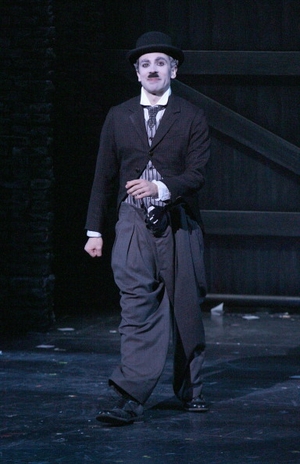 Did you know that Charlie Chaplin once failed to win a Charlie Chaplin look-alike contest? Now it's your chance to give it a go!
The Broadway musical "Chaplin" launched a look-alike Instagram contest on Oct. 15. Chaplin look-alikes can enter the contest by snapping photos of themselves and uploading them to Instagram using the hashtag #ChaplinLookAlike. Facebook, Twitter, and Pinterest are also supporting the contest.
The top 10 photos will be chosen Oct. 29, and their subjects will each receive two tickets to the 7:30 p.m. Halloween performance of "Chaplin." Afterward, cast members Rob McClure (Chaplin), Wayne Alan Wilcox (Sydney Chaplin), and Hayley Podschun (Mildred Harris) will choose one winner, who will receive a prize package.
Want to check out the competition? Go to @ChaplinBway on Instagram, Facebook.com/ChaplinBway, Twitter.com/ChaplinBway, or Pinterest.com/ChaplinBway.
So what are you waiting for? Find a bowler hat, paste on a mustache, and get Instagramming!