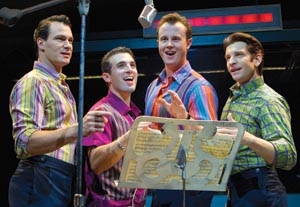 Six years after "Jersey Boys" took home the Tony Award for best musical, the show is still running strong at the August Wilson Theatre. And the musical about Frankie Valli and the Four Seasons has as much heart today as it did when it opened.
Back Stage caught up with the current Broadway cast of "Jersey Boys," and discussed how the production has evolved, what's it's like portraying the band members, and the difference between performing on the tour and on Broadway.
Does the audience energy chance in each city "Jersey Boys" performs?
Nathan Scherich (Swing):
You'll get certain cities that don't know the story quite as well, so maybe it's a little slower to build, but as soon as we hit the big numbers of "Sherry," "Big Girls Don't Cry," and "Walk Like a Man," the audience goes crazy. They're reliving those years.
In your six years being a part of this production Peter, how has the show changed or evolved?
Peter Gregus (Bob Crewe and others):
What changes most is, every time a new person comes in the cast, the show changes a little bit for the good. It makes all of us who have been here for a while re-listen again and re-invest again. I can't really tell from the inside what's changed. I'm sure people who would come and haven't seen me do the show for five years go, "Oh my god, you're so different," but I don't feel different. I don't feel that the show is that different. I feel like we're trying to do the same thing we've done since opening night.
Russell, how does being an understudy help you with character development as a performer?
Russell Fischer (Joey and Others):
We've had several company members that have been on tonight who are usually swings or understudies. I usually play Joe Pesci, so playing Frankie is always a thrill. It's incredibly exhilarating from start to finish. One evening I did Act One as Pesci and Act Two as Frankie. It was totally crazy, but it's a wonderful experience. It's the kind of work you want to be doing. There's so much depth and the arc of the character is so broad, and I get such a thrill singing this music and playing this role that's so complex. It's challenging, but it's rewarding on so many levels.

How do you play a character such as Frankie Valli, without becoming a caricature?
Fischer:
What I always say about Pesci is you have to commit to the objective; you have to commit to the storytelling. If you're all about the objective, it doesn't become a caricature. It comes from a genuine more authentic place. I'm not trying to do Frankie, I'm not trying to do Pesci, and they're their own person and entity. We just try to take what's on the page, which is pretty accurate and lift it off the page.

What advice would you give to an aspiring performer?
Matt Bogart (Nick Massi):
Take your time. Go to school and learn the fundamentals. Hopefully the time will be right. Keep preserving. Broadway will always be here.