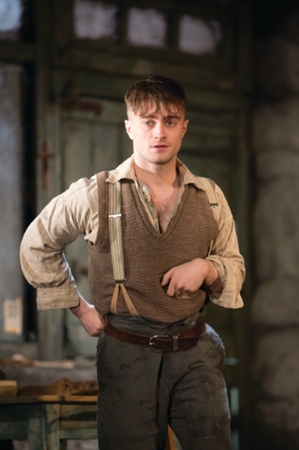 Increasingly, the spring months don't just bring flowers—they also bring stars. To Broadway, specifically, and 2014 is shaping up to be as starry as anything van Gogh could have concocted. Here are a few of the biggest names taking on a Broadway stage in the coming weeks.
Star: Bryan Cranston
Cachet: AMC's "Breaking Bad," which is currently taking its victory lap around the awards circuit
Project: "All the Way," a new drama in which Cranston stars as President Lyndon Baines Johnson during the tense weeks of fighting to get his civil rights bill passed; opens March 6.
Prediction: Cranston's a great actor (who else could have rebounded so well from years on "Malcolm in the Middle"?), and LBJ is a meaty role. He got great reviews during a regional production last fall; expect this to be a serious contender come Tony time.
Star: Denzel Washington
Cachet: He's Denzel Washington
Project: A revival of "A Raisin in the Sun," a decade after the last one; opens April 3.
Prediction: Broadway producers see dollar signs instead of dates these days, which may be why the Great White Way is choking with shows audiences have recently seen. The combination of play and star is a potent one, though—and it's hard to argue with Washington's box office power.
Star: James Franco
Cachet: America's favorite Oscar-nominated overachiever
Project: "Of Mice and Men"; opens April 16.
Prediction: Franco's live performances haven't been particularly invigorating on television (remember the Oscars?) so he has a lot to prove when it comes time to play the wily George opposite Chris O'Dowd.
Star: Daniel Radcliffe
Cachet: Boy wizard
Project: Irish "comedy" "The Cripple of Inishmaan"; opens April 20.
Prediction: Radcliffe has spent the last few years proving to the world that he has permanently left his Harry Potter days behind—and nowhere has he made that more clear than with bold choices onstage. From the nudity of "Equus" to singing and dancing like a pro in "How to Succeed," Radcliffe refuses to rest on star power alone. And this revival of Martin McDonagh's black comedy continues to prove Radcliffe's point.
Star: Neil Patrick Harris
Cachet: Broadway's favorite TV actor
Project: A revival of "Hedwig and the Angry Inch"; opens April 22.
Prediction: Harris loves Broadway—just watch any year he hosted the Tony Awards—and has a history of strong performances in musicals. Whether or not the former Doogie Howser can access the grit and punk aspects of John Cameron Mitchell's cult classic remains to be seen; but Harris will certainly give it his all.
Star: Michelle Williams
Cachet: Indie film darling taking on one of musical theater's most iconic roles
Project: "Cabaret"; opens April 24.
Prediction: Oh look, another show Broadway has seen in the last 10 years. Even odder is the return of Alan Cumming to the MC, a role for which he won a Tony Award. Stepping into Natasha Richardson's shoes is Williams, that emblem of film fragility. The notes don't matter as much as the acting chops with Sally Bowles, and we're not entirely convinced Williams can pull it off. But we're always happy to be surprised!
And waiting in the wings are Ewan McGregor, making his Broadway debut this fall in a revival of "The Real Thing," and Hugh Jackman, coming back to Broadway in 2015 in Jez Butterworth's drama "The River."