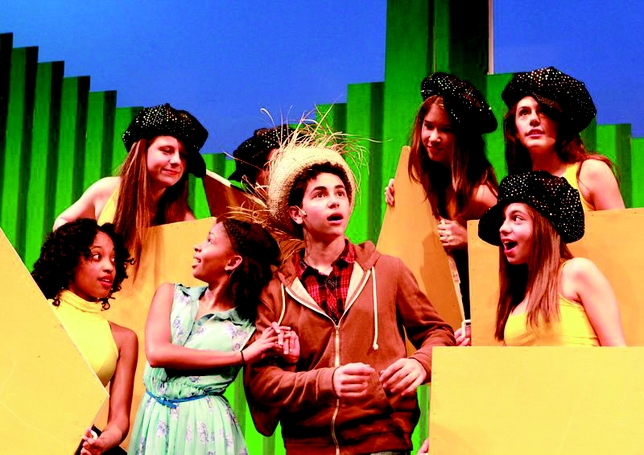 Poly Prep Country Day School's middle school campus in Dyker Heights, Brooklyn, might be a borough away from the Great White Way, but the school's 360-seat theater, seasoned faculty, and talented student performers give their productions a professional polish. From Tony Award winner Dan Fogler to "The Gospel at Colonus" composer Bob Telson, Poly Prep, a private nursery–12 system, is a known incubator of Broadway talent. This season's production of "The Wiz" is no exception.
"You get to really work, and it's like you are on Broadway. It feels like the real thing," said student Olivia Knutsen, 12, who plays the evil witch Evermean.
The show, which debuts May 10, will also star middle schooler and accomplished stage actor Khail Bryant. Only 13, Bryant has already played a young Nala in the Broadway production of "The Lion King"; in addition, she is part of the Alvin Ailey youth company and has appeared in films and commercials.
While Bryant has the IMDb page, her cast mates are equally poised and gifted dancers, singers, and actors. As Zach Kimmel, 14, belted out his solo as the Scarecrow, he easily could have passed for a high school senior on the verge of becoming a performing arts major. The Yellow Brick Road dancers jive just as well as the Fly Girls, the "In Living Color" dance troupe on which they are based. On the other side of the stage, a 12-year-old managed the sound board, operating 12 mics and more entrance and exit changes than you can count on one hand.
Managing these multiple moving parts is director Jill Bolstridge, who also serves as Poly Prep's middle school drama teacher and is the co–artistic director of the Children's Theatre Company, a not-for-profit theater company with which she has directed 50 productions. With "The Wiz," Bolstridge delivers a '90s take on the classic 1975 Broadway musical by mixing in more hip-hop elements and featuring sets that resemble early, pixelated Nintendo Entertainment System video games.
"This show was really groundbreaking in its day when it opened on Broadway," Bolstridge said. "It is a great show based on an archetypal myth which has the hero's journey embodied in such a way that kids this age can really relate. With the jazz and 'funkdafied' music, it really puts it into a genre that transcends ethnicity, religion, and geographic location and really speaks to the human experience."
Bolstridge doesn't just endow her students with the fundamentals of musical theater; she also fosters a collaborative and family-like environment, which keeps her students returning for more.
"At the beginning of my eighth-grade year, I did tech for 'Robin Hood' and I loved it so much," said eighth grader Alejandro Maldonado, 14, who has his first acting role in "The Wiz." "The people and how everybody loved being here and wanted to be part of the production made me want to join along." Other students not only take part in the production but serve as dance captains, where they break down particular choreography for fellow students in a one-on-one setting.
The caliber of the program coupled with this familial attitude was enough to draw Bryant away from Broadway and the silver screen for the part of Dorothy in her first-ever school production.
"I think this is a growing experience. I haven't been able to be a 'normal' kid, so to do a school musical is a really big deal for me," said Bryant. "I am learning a lot from my cast members. I think I can always learn more about dancing or singing or acting, whatever I am doing. That is what is happening with this. It's opened up things about myself and my career that I didn't know I had in me."