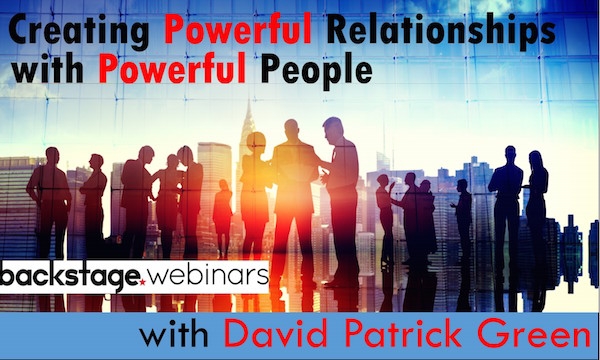 The key to success in the entertainment business is who you know. Yet, one of the most overlooked aspects of anyone's acting career is developing the skills to connect with the people in the industry who can actually get you a job. This business is based on relationships. Are you building and nurturing the right relationships to influence your career?
On Tuesday, Sept. 29, acting career coach and Backstage Expert David Patrick Green will be joining us for a Backstage University webinar on how to develop industry relationships. Participants can log in from anywhere in the country and learn how to target specific contacts based on how they are trying to further your career. At the end of the webinar, attendees can pose their own queries around the discussion.
Green will teach you how to develop, maintain, and nurture entertainment relationships, find the right people to connect with, and present how to turn one relationship into many. Isn't it time you invested in learning how to network in order to jump-start your career?
Join us Tuesday, Sept. 29 from the comfort of your own home for our entirely accessible, informative BU webinar and learn how to create powerful relationships with powerful people, and start streamlining your career toward success.
And read more about Backstage University here!