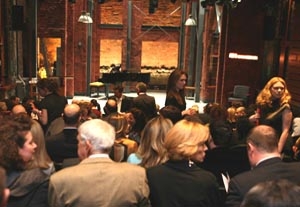 Whether actors have just arrived in New York or are planning to move here soon, chances are they will come into contact with Actors' Equity Association's showcase code, which sets the parameters for a significant amount of work done in smaller theaters. In recent years, producers and other theater artists who regularly work under the code called for changes to be made, and in late May a few were instituted.
However, some producers contend that the changes did not go far enough and that Equity, the theater union for actors and stage managers, remains indifferent to producers' concerns. Moreover, they say, certain restrictions prevent New York from being a more fertile environment for theater outside of Broadway and Off-Broadway. "No significant changes have been made," said John Clancy, a producer and executive director of the League of Independent Theater, a group that has lobbied for changes to the code over the past several years. "This code is the greatest hindrance to the growth and stability of independent theater."
Equity officials said the showcase code is developed by and for actors and that the changes were proffered by them. Also, they said, the code continues to serve actors' interests well, as roughly 1,000 shows a year have been produced under the code during the past decade. From the union's perspective, the rules have helped to foster work rather than limit it.
As for alleged indifference toward producers who work under the code, Equity officials said it was more about the union's priorities and the code's purpose. "There is one purpose, from our perspective," said Rick Berg, the union's senior business representative. "It is to showcase actors, in the hopes that their careers will be enhanced and that they will gain employment through it."
Erez Ziv, who manages three New York theaters and runs Horse Trade Theater Group, has also advocated for change. He is sympathetic to the union's concerns but said that with the right alterations, everyone could prosper. "Equity is trying to protect their actors from being used by producers to make money without gaining anything themselves. I understand that," he said, "but in the end the rules they're enforcing are keeping everybody back, including the actors."
Honoring the Code
The showcase code, exclusive to New York, applies to plays, musicals, revues, and improvisational shows produced in a theater with 99 seats or fewer. The production may run for up to 16 performances, and ticket prices are capped at $18. Actors receive no salary but must be reimbursed for transportation; actors are entitled to a small additional stipend if the production runs for all 16 shows. Nonunion actors are allowed to work in these productions, but they receive no points toward Equity membership. Equity actors receive no credit toward health insurance or their pension plans.
Rehearsal time and the producers' budget are also regulated by Equity, and those are the rules the union changed. The maximum amount a producer may spend under the code was nearly doubled, from $20,000 to $35,000. Actors' compensation no longer counts against the budget, and rehearsal time was increased from four weeks to five.
Ziv said the doubling of the allowable budget was meaningless. "At this point, you have to sell 123 percent capacity for the run to break even, if you're spending the whole budget." His math is correct: If a producer sold all 99 seats for 16 nights at $18 a ticket, he or she would earn $28,512, which falls 23 percent short of the break-even point.
Berg and Maria Somma, Equity's spokeswoman, said the changes were made by Equity's Off-Off-Broadway committee, which is composed of 20 to 30 members who range from early-career actors to those who are "largely in retirement." Clancy, Ziv, and others who have lobbied for changes over the past three years wish they had been included in the dialogue. Berg and Somma said the union wasn't interested in meeting with them. Why?
"Because they're not employers who are interested in negotiating employment terms," Berg said. "If they were interested in negotiating business terms, we would meet with them. We would meet with anybody."
Beyond that, he added, they don't take on the responsibilities of employers: "They don't comply with minimum wage laws, they don't pay unemployment, they don't pay or provide workers' compensation, and they don't pay an employer's share of Social Security."
Clancy said the changes were a step in the right direction but stopped short of much-needed reform. He and his colleagues would like increases in ticket prices, the number of performances, and the size of the theaters; they also want the ability to videotape, for purposes of marketing and seeking investors. With some or all of these changes, they say, everyone connected to the production could benefit, especially the actors.
Off Camera
Many showcase producers want the ability to record rehearsals and performances, which the code prohibits. In the digital age, having a video is especially important for marketing and wooing investors, and the prohibition, Clancy added, "is almost like not being able to advertise in newspapers. It's very, very difficult when you're competing against all the other entertainment options out there."
Ziv said videotaping is becoming the industry standard for investors and festival directors who vet applications: "At this point, they want to see recordings, since [they] are so easy to do and attract investors." As for getting investors to come to a showcase while it's still running, Ziv said, "The people who make these decisions don't generally live by our schedule…. Oftentimes, by the time the buzz really gets out there, the show is over."
Ziv said he was unable to submit a play for the Solo Nova festival in New York because he didn't have video; Clancy said he was unable to submit to companies in Minneapolis and Portland, Ore., for the same reason. A spokeswoman for the Solo Nova festival told Back Stage that applicants are required to submit at least some video of a prospective performance to be considered. Erin Boberg Doughton, the performing arts director for the Portland Institute of Contemporary Art, said that in general "the lack of video would hinder our ability to see an artist's work." It's no longer enough, she added, to judge a submission's worth based on a script and some positive reviews.
Asked if DVDs have become the industry standard for submissions to play festivals, Doughton said, "Absolutely. It's even standard now that companies post their work online. It's an important marketing tool."
When it comes to audio and video recording, however, Equity has very strict rules, even for employers working under contract. Berg and Somma said allowing showcase producers to record is not going to happen. "Professional actors' images and the recording of their performances have value, and they normally get paid for that," Berg said. "We need to be able to protect the marketplace and the professional actors' ability performing. And if we allowed recording where there are not contracts, we don't think we'd be successful in preserving that."
All About Actors
As Berg said, the intent of a showcase is to display an actor's talent for the purposes of gaining more work. But Chris Harcum, an Equity actor and board member of the League of Independent Theater, said that idea is outmoded, particularly when it comes to attracting attention from key gatekeepers in the industry. If actors want attention from agents, managers, and casting directors, he said, their time might be better spent paying for face time at a seminar or workshop, a practice that was once frowned upon but has become more acceptable.
"I've read where a casting director called [showcases] bad community theater," Harcum said. "If I were a casting director or agent, why would I bother to go out to see those shows if I could also see actors…and get paid for it at the same time?"
That perspective could be a tad cynical. In the July-August issue of Call Sheet, Back Stage's sister publication, more than 30 casting directors stated that they accept invitations to showcases and will attend them. A fewer number of agents and managers said they accept them, but industry representatives have clearly indicated they still take part in the process.
And, Berg said, if producers want more flexibility and a chance to develop the work, they can sign an Equity Letter of Agreement or Mini Contract, each of which pays actors a weekly salary and contributes to their health-and-pension funds.
The bottom line, Berg said, is "that they want to compete with Off-Broadway or at least the smaller end of Off-Broadway. We can't let them do that on an unfair basis, our thinking being that they don't pay the actors." In other words: Why take money out of the pockets of producers who pay union members a lot more than mileage and a stipend?
Moreover, Somma said, there are Off-Off-Broadway companies, such as Rattlestick and Waterwell, that started out as showcase producers and moved on to regular Equity contracts. "Playwrights Horizons started out as a showcase producer," she added. Playwrights is now among the leading Off-Broadway nonprofit theater companies that occasionally produce on Broadway.
Clancy said that despite the differences of opinion, he is optimistic about the future, because at least some changes have been made. Eventually, he added, "it's up to the union members…. When union members look at it and say, 'Yes, this could be better, there's a better way of doing this,' then that's when change will finally happen. As it should."