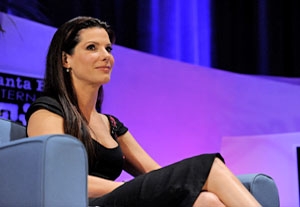 Oscar nominee Sandra Bullock received the American Riviera Award at the Santa Barbara International Film Festival on Feb. 5 at a ceremony held at the Arlington Theatre. The event, moderated by Back Stage film critic Pete Hammond, featured a retrospective of Bullock's career highlights, though the actor was also willing to talk frankly about some of the lows. In discussing the much-maligned sequel "Speed 2: Cruise Control," Bullock said, "I remember asking every day, 'When do we get a script?' Apparently, you don't need one in an action film."
Forest Whitaker, who directed Bullock in "Hope Floats," presented the award to her, returning the favor after Bullock presented him with an award at the same festival in 2007. Whitaker praised how easy Bullock makes her work look, though it's filled with "delicacies and complexities," he said, adding, "She's like a ballerina who makes standing on her toes seem like a natural way of walking. Then she magically pirouettes across the room."
At a party held at a private residence following the event, Bullock revealed how she got her start as an actor in New York through Back Stage. "I remember getting it every week. That's all I lived for was Back Stage," she said. "I booked a lot of things off it; everything I have now was literally a domino effect result of Back Stage. I did a lot of student films—I met a young mover-shaker kid through Back Stage, and we did a 20-minute NYU short. It wasn't his film; it was his friend's, but he talked me into doing it. And that kid was Brett Ratner. Then Brett and his girlfriend at the time would come into my restaurant where I would give them free cocktails. Now I see him and we just laugh. I'll say, 'Dude, I got you drunk for nothing.' And he says, 'I'm responsible for everything you have!' I'm like, 'Actually, you kind of are.' "
For an exclusive interview with Sandra Bullock, go to www.backstage.com/bullock.