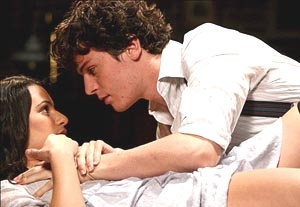 It was two weeks before Christmas, and the mood on Broadway was hardly merry. Tony Award–winning shows, from
Hairspray
and
Gypsy
to
Spring Awakening
and
Spamalot
, had announced closing notices earlier than expected. Other prize-winning stalwarts, such as
Avenue Q
and
August
:
Osage County
, seemed imperiled, while
Shrek
and
Pal Joey
were struggling in previews (the latter never recovered). Meantime, the planned revival of
Hair
had failed to raise more than half of its needed capitalization, and at least five of the season's potential productions were stillborn, largely due to a weak investment climate.
All of this played out against the backdrop of an imperiled global banking system and a cratered Wall Street, whose fortunes have a direct bearing on Broadway's investors, producers, and much of its audience. As The New York Times noted, "New York theater appears to be entering one of its darkest periods."
Staring at a not-so-rosy future, Charlotte St. Martin, the executive director of the Broadway League, turned to the past for guidance. Comparing Broadway attendance to the U.S. economy over the previous three decades, she discovered that with one exception—the aftermath of 9/11—there was no direct correlation between the two. "What it showed me," she told Back Stage recently, "was that if you put great works onstage, people will come."
As a result, St. Martin said she adopted a cautiously optimistic attitude, even when 13 shows closed in a two-week period in January. Her faith was rewarded when the gross figures for the 2008-09 season were released May 26: Broadway earned approximately $943 million, a 0.6 percent increase from the previous year and an all-time record. "I knew we were going to have the star power; I knew we were going to have the shows; I guesstimated in my heart that we would have a good season," she said. "I did not think we would break records."
Buoyed by A-list talent from film and television (such as Will Ferrell, Jane Fonda, James Gandolfini, Marcia Gay Harden, Geoffrey Rush, and Susan Sarandon), combined with familiar titles such as
West Side Story
and
9 to 5
, along with a spate of well-reviewed plays, Broadway appears to have survived the downturn, one that some economists predict will end during the third quarter of this year—perhaps in time for the holiday season, when the theater district makes a significant portion of its money.
Nevertheless, St. Martin cautioned, "I still have 'What's going to happen in the fall?' concerns."
Butterflies are Free, Shows Require Cash
Part of St. Martin's apprehension is whether the producers of shows targeted for the coming season can raise the funds to open. At least five productions planned for 2008-09 were tentatively pushed to the current calendar or beyond:
Bob Fosse's Dancin', Brigadoon, For Colored Girls
…,
Godspell
, and
Vanities
. In the current Theatrical Index, only
Brigadoon
is listed under "Future Broadway Plans," and cites no target date.
Vanities
will open Off-Broadway at Second Stage this summer. Of the 43 productions that did open in the past 12 months, most had their financing in place before the worst of the recession hit, according to St. Martin.
"I don't know what impact the financing will have on the 2010 season," she said. "I know we've got some big shows that are forecasted. I know that we've got a lot of shows holding opening nights. I'm told by the theater owners that they are pretty darn booked, with backup. But I don't know if they have financing. Until I get definite word and letters saying, 'This show's going on,' I'll have a little butterfly tummy."
Rachel Helson, one of several producers for
Reasons to Be Pretty
, a nominee this season for best play, is a newcomer to Broadway, with just one other credit to her name, [
title of show
]. But she has worked with enough veterans—such as Jeffrey Richards, Jerry Frankel, Jeffrey Seller, and Kevin McCollum—to form an opinion of what the next 12 to 18 months could look like: more A-list talent, revivals or adaptations of familiar titles (think
Spider-Man
), and lower-budget productions. In just the past few weeks, productions announced for the coming season affirm Helson's estimation: Daniel Craig and Hugh Jackman are reportedly teaming up for a new play called
A Heavy Rain
; Nathan Lane and Bebe Neuwirth will lead a musical adaptation of
The Addams Family
; and Carrie Fisher (
Wishful Drinking
) and Brian Dennehy (Samuel Beckett's
Krapp's Last Tape
) will mount one-person shows.
"Those types of things tend to pop out during a recession," Helson said, "because audiences want to go see things that they're familiar with."
St. Martin is not so certain that the tried, true, and inexpensive will dominate Broadway for the next season or two. However, when asked if a reliance on the familiar would be necessary for a while, she said, "I don't know if it really is necessary. I do believe that if you're going to invest $15 million, it's nice to have an ace in the hole or something you think is an ace in the hole…. I do think the brand names help. But if the show isn't good, it won't make it a success."
Fighting the Systemic
Despite the take at the box office this season, there were factors that diminished a bit of the shine. The number of tickets sold fell by 1 percent, from 12.27 million to 12.15 million. The figure of $943.3 million was based on estimates from
Young Frankenstein
, for which producers did not report grosses. Third, numbers for the 2007-08 season were offset by a onetime event, a 19-day strike by Broadway stagehands that cost an estimated $30 million at the box office. Had that not happened, the Rialto probably would have shown a drop-off for income and tickets sold for this season.
St. Martin, however, indicated that she wasn't much concerned: "Do I think this year wouldn't have broken last year's record if we hadn't had the strike? I don't think it would have. It still would have been a great year." As for the tickets, she said she would gladly take a 1 percent fall during a period when other industries were off by 20–30 percent.
Outside of recessionary concerns, systemic issues will challenge Broadway as it tries to maintain its financial success and the size of its audience. Three decades ago, people ages 25–49 made up 60 percent of Broadway's audience. That demographic now comprises only 40 percent of the audience, which concerns St. Martin.
"I think we have to focus on audience development constantly," she said. "A lot of the League's initiatives are designed to do that." To find younger theatergoers, Broadway needs to reach them through the media they use, and running color ads in Sunday newspapers won't get the job done. Thanks to changes in the contract the League negotiated with Actors' Equity Association last summer, St. Martin said, it is easier for producers to use television and new-media platforms to promote their shows.
To veteran producer Annette Niemtzow, however, there are larger concerns than age demographics and how to sell a show. As far as she is concerned, the entire Broadway model needs fixing. "Even though we're doing fine at creating occasional visitors to Broadway—people who come two, three, four times a year, if they can—we're not creating people who come to the theater two and three times a week, because they can't afford to do that," she said. "And that's because our model is broken."
Shows are so costly to produce that they frequently require a dozen or more producing entities to raise the money. When that happens, Niemtzow said, the creative process can be hindered by people who don't know that their fundraising abilities do not automatically extend to dramaturgical, directorial, or casting concerns. "I have nothing against a hundred people listed above title," she added, "except when it makes it so that the [creative] producer is no longer a key player in a creative team."
The string of names at the top of the title page in the program concerns St. Martin as well. "I hear the budgets, and I know it takes more people today to finance a show. And I know a lot of those people came from Wall Street. Are they still going to continue to invest? I don't know that they're not. My business logic just says, 'Will they?' "
The answer might reveal itself in another 12 months.