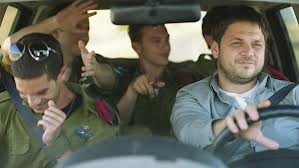 Hollywood's push for Sacramento to extend a $100 million tax credit program appears to be working with the state Senate voting almost unanimously Aug. 21 to prolong the incentives.
Senators voted 32-to-3 in favor of passing a bill from Sen. Ron Calderon, D-Montebello, that extends the California Film & Television Tax Credit Program for an additional two years. The Senate vote came less than a week after the state Assembly passed similar legislation, authored by Assembly Member Felipe Fuentes, D-Montebello, in a 70–4 vote. Both bills extend the program through 2017 and maintain funding at $100 million a year. The program, which received a one-year lifeline last year, was set to expire after 2015.
Both bills are now awaiting committee hearings in the opposite chambers.
The extension has been supported by a coalition of labor groups, including SAG-AFTRA, the California Teamsters Public Affairs Council, the Directors Guild of America, the International Alliance of Theatrical Stage Employees, International Brotherhood of Teamsters, Local 399, Laborers' International Union of North America, Local 724, Professional Musicians Local 47, and the Recording Musicians Association. The groups released a joint statement thanking lawmakers for "a meaningful commitment to keeping jobs in California and contributing to a flourishing entertainment industry—one in which tens of thousands of skilled and talented Californians can build livelihoods and contribute to our state's economy."
Labor's support for the bill isn't unanimous. The California Teachers Association and the California School Employees Association, AFL-CIO, have both registered opposition to the program's extension. Their view is that the state shouldn't be granting tax credits when thousands of its members are facing layoffs in the wake of state budget cuts. Moreover, a CSEA official pointed to a June analysis prepared by the non-partisan Legislative Analyst's Office that found the program "appears to result in a net decline in state revenues."
Still, Calderon released a statement saying the measure is "designed to stem the flow of California film and television entertainment jobs from California to other states that offer more lucrative incentives to relocate from California, by offering competitive inducements to remain or to come to California."
New York, for instance, has film and television tax credits valued at $420 million a year. And it recently tripled the state's tax credit on post-production to 30 percent. California doesn't offer a similar incentive.
"With the Senate's approval of SB 1167 we move another step closer to ensuring jobs in the film and TV industries stay here in California for Californians," Calderon stated on Tuesday.
Other groups who oppose the tax credit include the American Cancer Society, the American Heart Association and the American Lung Association. According to legislative aides, the groups wanted to restrict tax credits for films and TV series that include tobacco use. That provision hasn't been included in either the Fuentes or Calderon bills.
Momentum for the extension has picked up as Hollywood's lobbying effort intensified. Several reports have come out in recent months touting the positive economic impact of the entertainment industry and the effectiveness of the tax credits. And even major movie studios weren't above the industry's full-court press on Sacramento.
Warner Bros. recently released a detailed account of its local expenditures, it said, in order to educate lawmakers about the economic impact of the entertainment industry on Southern California.
Now, opposition inside the Legislature appears to have softened and the extension bill seems poised to receive final passage.