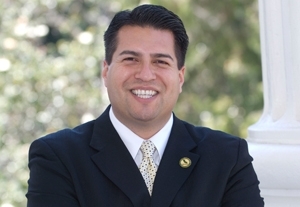 A bill extending an entertainment industry tax credit moved forward in the California Senate on Tuesday and could end up on Gov. Jerry Brown's (D) desk by early next week.
The bill, authored by Assembly Member Felipe Fuentes, D-Sylmar, to add two years to the California Film & Television Tax Credit Program, passed unanimously through two Senate committees and will face a full floor vote before the end of the week, aides said.
Meanwhile, a similar bill authored by Sen. Ron Calderon, D-Montebello, is scheduled to be heard in the Assembly's Revenue and Taxation Committee Aug. 30. That legislation will likely go to a floor vote in the Assembly by the end of the week.
That could mean the two pieces of legislation will both be sent to Brown for a signature, although aides still expect one lawmaker to sign onto the other's bill. "It's not who gets the ball into the end zone, it's that the points go up on the board," said one legislative aide.
The legislation is seen as a way for Sacramento to offer support—moral and financial—to the entertainment industry, which has been on shaky ground in California as other states have lured productions away with generous tax incentives.
The extension of the program, which provides $100 million a year in tax credits to film and television projects that meet its funding criteria, has been supported by a coalition of labor groups, including SAG-AFTRA, the California Teamsters Public Affairs Council, the Directors Guild of America, the International Alliance of Theatrical Stage Employees, International Brotherhood of Teamsters, Local 399, Laborers' International Union of North America, Local 724, Professional Musicians Local 47, and the Recording Musicians Association. The groups have said passing the bill is a way for lawmakers to show "a meaningful commitment to keeping jobs in California."
But some labor groups oppose the program. The California Teachers Association and the California School Employees Association, AFL-CIO, have both registered opposition to its extension. Their view is that the state shouldn't be granting tax credits when thousands of its members are facing layoffs in the wake of state budget cuts. Moreover, the CSEA has pointed to a June analysis prepared by the non-partisan Legislative Analyst's Office that found the program "appears to result in a net decline in state revenues."