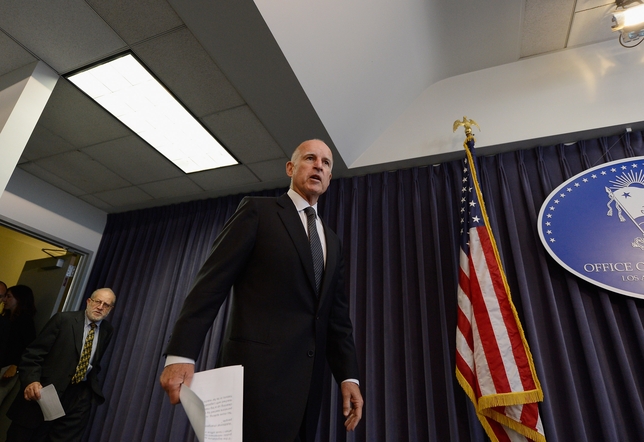 Hollywood producers are breathing easier following a frenzied final day of the legislative session that saw lawmakers in Sacramento pass an extension to the state's lucrative tax credit program for the entertainment industry.
The bill, formally known as AB 2026, passed the state Senate in a 32-2 vote late Friday night. It provides another $200 million in taxpayer support for film and television series shot in California.
Amid the legislative wrangling, lawmakers actually a similar piece of legislation, SB 1197, which cleared the Senate with a 26-0 vote. Both bills extend the California Film & Television Tax Credit Program through 2017.
The bills, authored by Sen. Ron Calderon, D-Montebello, and Assembly Member Felipe Fuentes, D-Sylmar, now head to Gov. Jerry Brown's (D) desk for a signature.
The program, which received a one-year lifeline last year, was set to expire after 2015. The program has already provided $400 million in tax credits to eligible film and television productions.
Fuentes called the program a "tremendous success."
"With the State's unemployment rate hovering around 12 percent, we need this incentive to help keep hundreds of thousands of Californians employed," he said in a statement. "Extending this incentive program will prevent production companies from moving their projects, jobs and spending out of California."
Calderon, who authored SB 1197, compared the entertainment industry to the state's Gold Rush, which began in1848 and over four years brought thousands of people scrambling over the Sierra Nevada to California.
"The film industry is quintessential California," said Calderon in a statement. "With the passage of my measure, this legislature has stated loud and clear that it wants to keep the film industry here, employing Californians and generating revenue for our economy."
Business groups echoed that sentiment.
"Extending these critical tax credits will help retain our state's fundamental industry and the millions of jobs it creates," Stuart Waldman, president of the Valley Industry and Commerce Association (VICA), said in a statement released by Fuentes' office.
Los Angeles Chamber of Commerce President Gary Toebben and Bryan Unger, western executive director of the Directors Guild of America, also released statements praising the program's extension.
The extension has also been supported by a coalition of labor groups, including SAG-AFTRA, the California Teamsters Public Affairs Council, the Directors Guild of America, the International Alliance of Theatrical Stage Employees, International Brotherhood of Teamsters, Local 399, Laborers' International Union of North America, Local 724, Professional Musicians Local 47, and the Recording Musicians Association.
"I applaud the passage of AB 2026, which will extend the California's successful Film and Television program, and we urge the governor to sign this important legislation," Duncan Crabtree-Ireland, chief administrative officer and general counsel for SAG-AFTRA, said in a statement.
Leo T. Reed, secretary treasurer of Teamsters Local 399, which represents thousands of drivers, location managers, casting directors and other basic crafts in the entertainment industry, thanked Fuentes for his work on AB 2026.
The extension will "give stabilization to the program continuing to keep vitally needed jobs, and economic infusion to both the State and local businesses, as well as working to keep one of the cornerstone industries of California where it belongs," Reed said.
But labor's support wasn't unanimous. The California Teachers Association and the California School Employees Association, AFL-CIO, publicly opposed the program's extension. Their view was that the state shouldn't be extending tax credits when thousands of its members are facing layoffs in the wake of cuts to education funding. Moreover, union officials pointed to a June analysis prepared by the non-partisan Legislative Analyst's Office that found the program "appears to result in a net decline in state revenues."
Fuentes' office, meanwhile, said the tax credits have resulted in $3.9 billion in economic activity statewide. Of that, $728 million was spent on wages to create an estimated 40,000 jobs, according to his office, and an additional 172,000 individuals are estimated to have received daily employment as background extras.
"What we hear so often from the film industry, is that they want to film here in California, but financially it is challenging," said Fuentes. "What we're doing with this bill is retaining and creating jobs by leveling the playing field and making California competitive again."
Moreover, Fuentes noted that other states have been luring productions away from California by offering their own incentives.
"The entertainment industry is one of the signature industries not only in Los Angeles, but throughout the State of California. New York would never let their signature industry — the financial industry leave — and I believe we can't afford to let our signature industry walk away from our great state," he said.