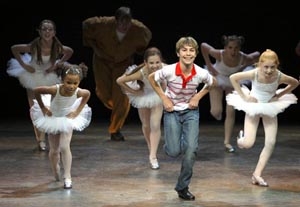 As of January 1, 2012, California state law added a 10 Day Temporary Entertainment Work Permit for minors.  The following is a general guideline of the state, country, and union labor laws for child performers, including how to apply for a permit and open a trust account.

New York Child Performer Labor Guidelines
Work Permit
The Child Performers Education and Trust Act of 2003 requires all minors to obtain a work permit from the New York State Department of Labor. The permit application is available at
www.laboy.ny.gov
. Permits are valid for one year. Parents are responsible for renewing the permit and can apply to renew a permit 30 days before the initial permit is set to expire.
A child applying for a child performer permit for the first time can apply for a 15-day permit online. The application is available at
www.labor.state.ny.us
. This short-term permit allows parents adequate time to apply for and obtain at standard 1-year child performer permit.
The following information must be included with the permit application:
- Social Security Number (This is used to show that the child is legally able to work in the United States)
- For a non-United States citizen without a Social Security Number, include a copy of the child's passport, other document required to enter the U.S., or any document authorizing the child to work in the U.S.         
- For a non-school age child include one of the following: a copy of a birth certificate, hospital record of birth, or a baptismal certificate.   
- Parent/guardian name, address, and phone number
- Information about the child's current school enrollment status. Permits require satisfactory academic performance. (For school-aged children, you must attach Academic Performance Verification Form. The form is available at
www.labor.ny.gov
.
- Information about the current status of the child's trust account (See next point.)
Mail completed permit application to:
Division of Labor Standards
Permit and Certificate Unit
State Office Building Campus
Bldg 12, Rm. 266A
Albany, NY 12240
If you have further questions about the process, you can call the Permit and Certificate Program of the Division of Labor Standards at (518) 457-1942.  You also can send questions by e-mail to
CPinfo@labor.state.ny.us
.
Trust Account
New York State law requires that 15 percent of a child performer's earnings be placed in a UTMA or UGMA compliant trust account. Parents are responsible for opening this account within 15 days from the start of employment and alerting the employer of the bank and account number of the minor's account.  Employers must deposit at least 15 percent of a child performer's earnings into that account. Fifteen percent is the minimum, and parents can opt to increase the amount deposited.
For trust account verification, a single document such as a copy of a deposit slip, passbook or other official document showing the following informaion:
- The financial institution's name
- The child's name
- The parent's/guardian's or custodian's name
- The account number
- A statement saying that the account is a trust account
If the employer does not receive any trust account information within 15 days of the start of employment, the employer must turn this money over to the State Comptroller. The Comptroller will hold the money in the child performer's name until he/she reaches the age of majority. You can contact the State Comptroller about this at (518) 474-4017.
If the child does not have a valid trust account, the Department of Labor cannot issue or renew a permit until an employer receives trust account information.
Parent is responsible for establishing a trust company as custodian of the account once the balance reaches $250,000.
If  the child plans to work on both coasts, it's a good idea to open a California Coogan account. Coogan accounts satisfy both the California and New York trust account requirements, but a trust set up under the New York requirements does not fill the California requirements. (See the Information on the next page on California child performer guidelines for more details.)
For more information about New York trust accounts, visit
ww.labor.ny.gov
.
Education
All minors working as performers in New York State must comply with standard education law. (The complete law is available at
www.nyhen.org
.) A minor who is working full time with a valid permit is allowed to attend school part-time, no less than 20 hours per week, instead of full time school.
The employer must provide a teacher who has credentials recognized by the state of New York. In general, a teacher is only required if the child will miss more than two consecutive days of school. Minors may attend regular school on a workday.
The parent is responsible for establishing a relationship with the child's school and bringing all of the child's books and assignments to the child.
For a minor who has graduated from high school, they are still required to secure a work permit, but they no longer have to include the Academic Performance Verification Form if proof of high school graduation is given.
CURRENT LAW:
The Child Performer Education and Trust Act of 2003 details can be found at
www.labor.ny.gov
.
PENDING LEGISLATION:
In October 2010, the New York State Department of Labor proposed new rules for child performers. While the ruling has not passed into law yet, the proposed legislation has generated a great deal of concern among parents.
The proposed rules include the following:
- Two physicals before applying for work permit
- Limited daily work hours, in line with SAG rules
- Parents on set suggested for age 6 and under
- Only teacher and child allowed in school room
The complete proposal is available at
www.labor.ny.gov
.
Back Stage will keep updated as the legislative process develops. Here is our past coverage of the issue.
N.Y. Labor Department to Change Child Performer Rules
Albany Pushes Labor Department on Child Performer Rules
Together for the Kids
California Child Performer Guidelines
Work Permit
Every minor must obtain an Entertainment Work Permit from the State of California Division of Labor Standards Enforcement (DLSE). Download the permit application at
www.dir.ca.gov
.
Renewal applications must be mailed 2-3 weeks before the initial permit expires. There is no fee to apply for the permit.
Include the following materials with the application:
- SASE for return of the permit
- Copy of the birth certificate for initial application
- Proof of Coogan Account (see next point) or permit will only be valid for 10 days
- If minor is school-aged, a signature from an accredited individual at the child's school is required. Make sure the school counselor or teacher notes their title next to the signature on the application
- Physician information for infants one month or younger
Permit applications must be mailed in. Allow plenty of time for the office to process the application. Send applications to:
DLSE Van Nuys office
6150 Van Nuys Blvd., Room 100
Van Nuys, CA 91401. 818-901-5484
UPDATE:
As of January 1, 2012, a minor's parent or guardian can apply online for a 10 Day Temporary Entertainment Work Permit. The permit is issued immediately after completing the application online with a $50 application fee. Issuing the permit is subject to the following conditions:
- It can only be issued once
- It is only available to a minor who has not previously applied for an Entertainment Work Permit
- It is only available to minors 15 days to 16 years old
- Due to medical certification guidelines, minors between 15 days and one month old will not be issued the permit immediately. Once medical certification has been received, the parent or guardian will receive notice by e-mail within one business day that the Entertainment Work Permit is available.
For more information and to apply for a Temporary Entertainment Work Permit, visit
https://permits.dir.ca.gov/ewp
.
Coogan Accounts
In California, the law states that all earnings for the child performer are property of the child, and 15 percent of all earnings must be placed in a blocked trust account, known as a Coogan Account.
Parents are responsible for setting up and maintaining this blocked account at a bank, credit union or brokerage firm. Parents must notify the employer of the bank routing and account number with trustee statement and deposit instructions from the financial institutions. A sample form is available at
www.bizparentz.org
. This statement must be attached to the minor's work permit at all times. If the form is not attached, the child's permit will be invalid after 10 days.
Here is SAG's short list of some places to open a Coogan account:
- AFTRA/SAG Federal Credit Union
- Actors Federal Credit Union
- Bank of America
- Bank of the West
- City National Bank
- First Entertainment Credit Union
- Morgan Stanley/Smith Barney
- Union Bank of California
- Wells Fargo
The producer is responsible for setting aside and depositing 15 percent of the child's earnings in this account within 15 days of employment. The parent or legal guardian must pay all expenses and taxes relating to the minor's employment as well as professional expenses (headshots, acting lessons, union dues) from the 85 percent unblocked income.
The funds are not available for withdrawal until the minor turns 18 or is emancipated.
A California Coogan Account satisfies the California and New York trust requirements.
For more information on Coogan accounts, visit
www.sag.org
.
Education

Studio Teachers/Labor Law Representatives are required by California law from the first day of employment at all times during the year. The studio teacher is also the labor law representative because they are responsible for the health and safety of the child as well.
School absences for work in the entertainment industry are only excused for up to 25 days per year. Home schools must work under the jurisdiction of the local school districts in which the minors reside. For absences that exceed five consecutive days, students should enroll in independent study.
School age children are required to have 3 hours of education a day on school days. The parent is responsible for securing the child's books and assignments and bringing them to the location. The school district will honor the grades and assignments provided by the studio teacher and give credit accordingly.
Rules vary in each school district regarding the employment of minors so it's important for parents to work with the child's school, be familiar with the attendance and make up work policy, and maintain a good relationship.
Minors are also eligible to enroll in a work experience program with the school district and gain academic credit.
A minor may not attend regular school on a workday, even if the work is scheduled after school.
Minors who have graduated from high school are not required to secure an entertainment work permit. No studio teacher is required for these individuals, and they may work the same hours as an adult performer.
Details of the working child's responsibilities may be found in the
California Education Code
.
Other Locations
Work outside New York and California is governed by the laws of that state. Louisiana and New Mexico also require proof of a trust account.
For information on other states, visit the
U.S. Department of Labor
and
SAG
.
Union Requirements
If the union contract is stricter than the state law, the union contract takes precedence. If a minor selects to join a union, he/she can no longer perform non-union jobs.
SAG Young Performers Handbook
Actors' Equity Young Performers Overview


Arriving on the Job
When you arrive on location, find the Studio teacher/labor law representative (CA), set teacher (NY), stage manager, or assistant director. If a parent is not able to be on set, they must provide an adult guardian, along with a letter authorizing that adult to be the elected guardian. A parent or guardian should be within sight of the child at all times.
The Producer should provide you comparable accommodations and transportation to the parent as those provided to the child. If there is an agent, he/she should negotiate these expenses.
Parents must bring the child's schoolwork, books, supplies, and also provide the employer with the child's work permit and trust account information.
Other Paperwork
Parents must fill out the  I-9, which certifies a person's right to work in the U.S. and establishes identity.
A passport is the most useful identification to have for minors. Other options are a school identification card, with a picture; or school record and a social security card or birth certificate. To learn more about I-9 documentation requirements, visit
www.formi9.com
.
Parents will also need to fill out a W-4 form in order to indicate the rate of federal payroll tax withholding. If there are any questions about taxes, parents or guardians should speak with a tax professional who is familiar with child performers.
Stunts
Parents are required to ensure the safety of their child. All minors are authorized to have a stunt contract and are entitled to have a dangerous activity performed by a qualified stunt person. Only the parent can decide whether their child will not be harmed physically or emotionally by the dialogue and activities they are being asked to perform.
Source: Screen Actors Guild Young Performer, New York State Department of Labor, California State Department of Labor
**These laws apply to any minor working in New York of California regardless of residence**