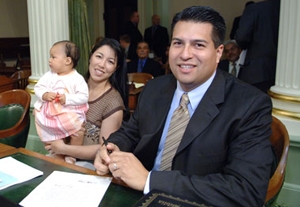 Lawmakers changed key pieces of the legislation extending the California Film & Television Tax Credit Program when it passed through a Senate committee Thursday.
The bill was originally supposed to extend the program
by five years to 2020
, but that was chopped down to two years. If this current bill becomes law, it would extend the program through 2017. The funding level was maintained at $100 million, but lawmakers asked for more transparency in the California Film Commission's program. As a result of an amendment, the CFC will now have to publish detailed reports about their applicants, what amount they were awarded, and the actual credit they received.
The legislation was moved on to the Senate Standing Committee on Appropriations by an 8-to-1 vote. Once it has passed through the appropriations committee, it'll go to a full Senate vote.
A coalition of interest groups—including the Directors Guild of America, SAG-AFTRA, state film commissions, and labor unions—has pushed for a five-year extension to ensure stability and help producers plan for upcoming projects. SAG-AFTRA issued a statement Friday signaling its strong support for the "effort to extend California's successful production incentive."
"Extending this program will ensure that SAG-AFTRA's more than 85,000 California members can continue to work in the state they love and continue to boost the state's fragile economy," a SAG-AFTRA spokesperson said in an email.
Meanwhile, Assembly Member Felipe Fuentes, D-Montebello, has a competing bill in the lower chamber set to be heard at the next meeting of the Assembly's appropriations committee, which will come when the Assembly reconvenes Aug. 6 after its summer recess.
Ben Golombek, a spokesman for Fuentes, said the assembly member was still pushing for a five-year extension.
"We're going to let the bill work through the legislative process," Golombek told Back Stage.
Fuentes pushed a five-year extension last year only to see his Senate colleagues adopt a one-year supplement instead.
Critics of the program would like to see it die as they argue it's the subsidization of one California industry over another. Moreover, there's mixed evidence that the credits provide a net financial gain for the state.