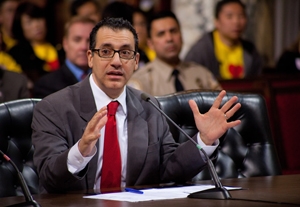 Producers looking to base their next project in California could face uncertainty about their tax situation.
The state's Film & Television Tax Credit Program is
up for renewal this summer
and some top state lawmakers say they aren't sure an extension will pass.
A coalition of interest groups -- including the Directors Guild of America, SAG-AFTRA, state film commissions, and labor unions -- is advocating for the measure. A five-year extension is necessary to ensure stability and help producers plan for upcoming projects, supporters say. But it seems they might have to be satisfied with another one-year extension of the program.
"The base goal is the one year [extension], we'd love to get the five-year [extension]," Assembly Member Bob Blumenfield (D), a film commissioner, told Back Stage. He's co-sponsored a bill granting a five-year extension of the program but called it a "hard sell."
The program, which is in its sixth year, was designed to anchor productions in-state that would otherwise leave California due to incentives offered elsewhere. It almost expired last year when lawmakers couldn't reach a deal on a five-year extension. Instead, Sacramento extended the $100 million annual incentive program for a year. The state's budget picture remains grim, as California faces a $16 billion deficit, and lawmakers outside the Los Angeles area are wary about extending the California Film Commission's program, even for a single year.
"There are folks throughout the state who look at it as subsidizing one industry over another," said Blumenfield, a San Fernando Valley Democrat who chairs the Assembly's Budget Committee. "And given the budget situation, it makes it very difficult."
Opponents of the program say it's a waste and will only serve to line the pockets of a few producers rather than stop runaway production. The tax credits "can certainly be a deal breaker for an individual production," said Mark Robyn, an economist with the Tax Foundation, a Washington, D.C.-based non-partisan think tank. "But for every production you lose to New York, there might be a production that wants to relocate to California because of the work force and the infrastructure."
The bottom line, said Robyn, who testified last year before state lawmakers in Sacramento, is that tax credits won't be enough to fend off competition from other states. "States are in a bidding war with each other for film productions," he said. "Other states will do more."
Los Angeles-area lawmakers understand the danger of losing productions to other locations, said Blumenfield.
"We see our constituents out of work," he said. "We see it, we feel it, we understand. The tax credit is one piece of it. We've got to roll out the red carpet and make permitting easier."
Two extension bills are running on parallel tracks in the state Legislature. State Sen. Ron Calderon, D-Sylmar, is pushing the bill in the upper chamber, while Assembly Member Felipe Fuentes, D-Montebello, has similar legislation going through the Assembly. Both pieces of legislation are still in committee.
California's incentive program is modest compared to states such as New York, which offers $420 million annually in film tax credits. And other states are moving to augment their incentives. After playing host to Marvel's "The Avengers," Ohio lawmakers recently doubled its refundable tax credit to $20 million a year.
Still, getting more money for the tax credit program is unlikely in the current fiscal environment, Blumenfield said.
"It's not a non-starter, but it's a hard sell given the budget climate and the two-thirds requirement to even change around some tax credits," he said.