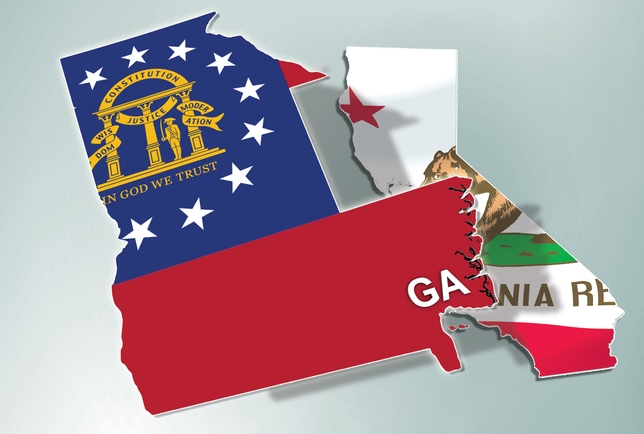 The California Film & Television Tax Credit Program opens its application window June 3, but even supporters are worried it won't be enough to curb rampant runaway production stoked by rival states' more lucrative incentives.
It's not just tax dollars that are luring productions away from California. Georgia, for instance, has beefed up its production facilities, too. The Peach State will be the new home to Pinewood, the British studio's first U.S. production facility.
That development comes as Tyler Perry is planning to expand his studio from about five sound stages to 17, and Jacoby Development, an Atlanta developer, plans to build a 400,000-square-foot movie studio.
"Eleven studio facilities have either located or expanded in Georgia since 2010," said Lee Thomas, director of the Georgia Film, Music & Digital Entertainment Office.
That's troubling members of the California Film Commission.
"The only thing that will level the playing field is finding ways to expand our incentive to include tent-pole movies with budgets over $75 million," said Steve Dayan, an organizer with the Teamsters Local 399 and a member of the CFC.
California's tax credit of 20 percent is available to films budgeted at $1 million to $75 million, movies of the week or miniseries with at least a $500,000 budget, and new cable TV series licensed for original distribution. One of the most generous credits in California's $100-million program, which was extended last year through July 2017, is available for television series that filmed all of their prior seasons out of state.
Meanwhile, critics of entertainment tax incentives say they don't provide taxpayers with a return on their investment. Moreover, they lead to a kind of arms race between states trying to offer producers the sweetest deal.
"The arms race has already happened. A signature industry in California is being dismantled," said Dayan, who noted crews and vendors are relocating to Atlanta, Louisiana, and North Carolina.
Still, there are questions about the sustainability of those states' tax incentives.
Georgia's program includes a transferable income tax credit of 20 percent of all in-state costs for film and television investments of $500,000 or more. A credit is awarded to projects that embed a Georgia Entertainment promotional logo within the titles or credits of each production.
"Georgia's doing crazy numbers right now, as is Louisiana," said Aaron Syrett, director of the North Carolina Film Office.
Louisiana has one of the most aggressive programs in the country, offering a transferable investor tax credit equal to 30 percent of the in-state investment made on productions spending more than $300,000.
"We don't know how sustainable that type of incentive is," said Syrett, whose state legislature is mulling over whether to renew the incentive program, which includes a refundable credit equal to 25 percent of qualifying in-state production expenses up to $20 million after $250,000 is spent.
Syrett said there's no reason to add more money to the program.
"It's about keeping our people working all the time, and that's being smart," he said. "It's not about competing against another state. We just will never do that. We want to sustain an industry."