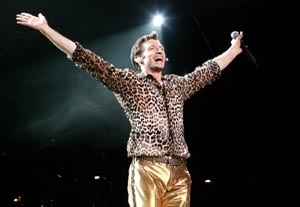 NEW YORK (Reuters) – A slew of Hollywood stars led by Hugh Jackman and Daniel Craig will open the new season of Broadway, as producers test whether star power will keep the Great White Way sparkling in tough times.
Jackman and Craig are teaming up for "A Steady Rain," Jude Law will appear in "Hamlet" and Sienna Miller will make her Broadway debut in "After Miss Julie," all opening in the Fall.
Last season's celebrities to take to the Great White Way included James Gandolfini, Susan Sarandon, Geoffrey Rush, Katie Holmes and Will Ferrell.
Stars boost sales, no small matter in the risky business of Broadway, said John Breglio, who is producing the musical "Dreamgirls," which is set to open in November.
"It is absolutely essential now to have a major star, a major star, to put on a play. And unless you have that, it's very hard," he told Reuters. "You know with stars in it you are guaranteed to at least get your money back."
He described as "stupendous" the pairing of Jackman, known for the "X-Men" films and winner of a Tony in 2004 for his role in the musical "The Boy From Oz," and Craig, star of the latest "James Bond" films and a performer on the London stage.
"Just the two of them will sell out every ticket. That is a huge coup," Breglio said.
But he is producing "Dreamgirls" with a cast of relative unknowns and said he believes musicals, more than plays, can still be financially successful without a celebrity.
The past two Tony Award-winning musicals and box office hits "In the Heights" and "Billy Elliot The Musical" did not feature Hollywood stars.
Success Not Guaranteed
Celebrity "doesn't guarantee a financial success or a critical hit, but it guarantees attention," said Charlotte St. Martin, executive director of The Broadway League.
But she warned that Broadway is "not cookie-cutter."
"Having a great playwright and a great cast and a previously successful show doesn't guarantee success on Broadway," she said.
In 2006 Julia Roberts made her Broadway debut in "Three Days of Rain" and, while the show was a box office hit, her performance was panned by critics. Jennifer Garner's debut in 2007's "Cyrano de Bergerac" received mixed reviews but the show recouped its investment, a rare occurrence on Broadway.
"A Steady Rain" producer Fred Zollo, a theater veteran, said celebrity came second when it came to casting Jackman and Craig for the new play by Keith Huff.
"It's an extraordinary play, and we wanted to find a couple of extraordinary actors for it," he said. "The idea of obviously raising excitement because of their star power or selling lots of tickets is terrific and obviously all of us were happy to do that in these tough economic times."
Although the United States is suffering its worst recession since the Great Depression of the 1930s, gross Broadway ticket sales for the 2009/10 season to date, which runs from June to May, are only down 2.2 percent compared to last season.
Attendance is a little more worse off, down 7.6 percent.
The 2008/09 season took in record gross takings of $943.3 million. The Broadway League says the 39 theaters in the famous district contribute $5.1 billion a year to the New York economy and support 44,000 jobs.
Speculative Industry
At least 20 shows have already announced plans to open on Broadway later this year, St. Martin said.
Zollo said raising funds for a show was always difficult, regardless of the economy, because it was such a speculative industry. "You can't put a on play in a Broadway theater for under $2.5 million," he said.
History shows four out of five plays do not return on their investment, St. Martin has said.
Arielle Tepper Madover, who is producing "Mary Stuart" and will bring "Hamlet" to Broadway with Jude Law, said productions respond to financial crisis.
One such response is discount tickets, she said, noting there will be $25 tickets available every night for "Hamlet."
Having a star makes a difference, but not all the difference, she said, noting "Mary Stuart" does not have a famous name.
"As a Broadway producer, it's very nice to have someone who's extremely talented, who fits the role perfectly and also happens to be someone whose well known," she said.
She added she was pleased with presales for "Hamlet."
"That's due to the fact that it's Hamlet, the fact that it's coming from the Donmar Warehouse (in London) and the fact that it's Jude Law," she said. "The public is smart and they know when it's right."
(Additional reporting by Christine Kearney, editing by Ellen Wulfhorst)
---
COPYRIGHT: (c) Reuters 2009. All rights reserved. Republication or redistribution of Reuters content, including by caching, framing or similar means, is expressly prohibited without the prior written consent of Reuters. Reuters and the Reuters sphere logo are registered trademarks and trademarks of the Reuters group of companies around the world.