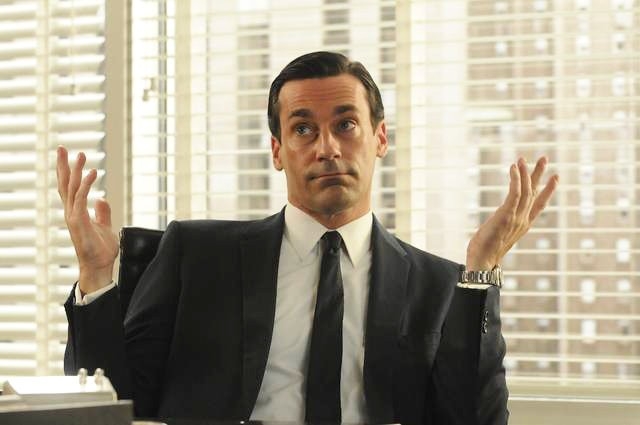 Nobody questions that "Mad Men" is one of the best things to happen to television in years. In addition to great ratings and critical acclaim, the show has worked its way into the pop culture zeitgeist in a rare way. And it's fair to say Emmy voters have noticed. The show has amassed a total of 97 Emmy nominations in its six seasons, and won the best drama award four years in a row. And yet, for all its accolades, the show has never scored a single win in an acting category.
In fact, the actors on the show tend to come up short at most awards. Though the SAG Awards wisely honored the ensemble twice, the only other major TV award an actor has won was in 2008, when Jon Hamm won the Golden Globe for lead actor in a drama—the year the awards show wasn't broadcast due to the Writer's Strike. Some, such as the New York Post, posit that Jon Hamm is "too sexy" to win an Emmy—that he suffers from what Tom O'Neil of Gold Derby calls "Slap the Stud Syndrome." But I think that's simplifying matters. First off, last year's winner Damien Lewis of "Homeland" isn't exactly hard on the eyes. I think it has more to do with just how easy Hamm makes it look.
First of all, Jon Hamm is not Don Draper. People think that because he looks so good in a suit and carries himself with the confidence of the eternally handsome, Hamm isn't having to stretch much. Anyone who has ever met Hamm will tell you he is nothing like Don—he's easygoing, funny, and frankly, kind of a good guy. I suspect he bears a stronger resemblance to the silly doctor he played on "30 Rock" than the cold, calculating ad man. Take the scene in season two when Don Draper visits Peggy Olson in the hospital and delivers one of the best lines ever to grace television,"It will shock you how much it never happened." He deserved to win for that line delivery alone. But juxtapose that with the man who opens a restaurant called "Hamm and Buble" with Michael Buble in this sketch. That's range. Even his frequent competitor Bryan Cranston, winner of three Emmys for his work on "Breaking Bad," has said that "Jon is doing some of the best acting on television right now."
The same could be said of four-time nominee Christina Hendricks, who plays sexy-beyond-belief partner Joan Holloway. (Though the "Slap the Stud" theory doesn't seem to apply to women, largely because there is an expectation for all women, even the "character" roles, to be gorgeous—but that's another issue.) Joan could rival Don for the greatest character arc over the last six seasons. At first, she appeared to be a bitchy, passive aggressive rival to Peggy (Elisabeth Moss). But Hendricks has made us love and sympathize and root for Joan over the years, even when she makes questionable choices, to the point where she's become one of the most complex women currently on TV.
When I interviewed "Mad Men" creator Matthew Weiner for a recent issue, he was unfailing polite and gracious about the fact the show has yet to win an acting Emmy. He said that of course his cast deserves to win, but so do all the nominees. At the same time, he admitted to feeling his actors weren't getting the credit they deserved at times. "I've been doing this for awhile," he said. "And I don't know anyone who can do what Jon's doing. I don't know anyone who can play a man so strong and scary on the outside and then show you these moments of fear and weakness terror. For matter, John Slattery—you think that's easy what he's doing? No one can do that. It's not easy what they're doing. And Vincent Kartheiser…there is no one who is less like their character on the show than Vincent Kartheiser."
If anything, Weiner blames himself by saying that the tone of the show might not lend itself to "Big Important Acting Moments." As he said, "The degree of difficulty in these scenes, the corners they are turning, from angry to sad to kind to funny to wry—and they will do this in a series of three lines sometimes. People acknowledge these are great actors, but there might be something about the style of acting on the show that may not be in fashion right now. Which is naturalism. How do you take the emotions down to what we're experiencing in every day life?" He also said that there have been times he's advised them against playing a scene with too much emotion. "There was a big moment for Elisabeth Moss and she goes, 'I want to cry here.' And I was like, 'Don't cry. Peggy's not going to let Pete see her cry'. Well, maybe if she had cried she would have won an Emmy. But the drama of what these people are doing is huge but they are playing it the way people in our lives would play it."
This year, Hamm had an embarrassment of riches from which to choose when picking the one episode to submit for Emmy judges. I personally leaned towards "The Crash," a mid-season episode in which Don spends the weekend working in a drug-induced haze. As Weiner put it, "The way he charted Don's drunkenness is amazing. You get to see the confidence of this man on drugs. We know it's Don, and it's Don on false confidence. And Don obsessed. And a little crazy." Instead, Hamm submitted "In Care Of," the season finale. It is, as with most "Mad Men" episodes, a great showcase for his talent—Don ends up in a drunk tank and makes the decision to turn his life around and start over in Los Angeles. But will it be enough to beat the high-stakes drama displayed by the likes of Lewis and Cranston? And fend off newcomers like Kevin Spacey ("House of Cards") and Jeff Daniels ("The Newsroom")?
If history is any indication, probably not. At least Hamm will look good in a tux. But with six acting nominations this year, "Mad Men" does have one very good chance at ending its losing streak in acting categories—Linda Cardellini. Nominated in the guest actress category for her unrecognizable turn as Sylvia Rosen, Don's mistress, Cardellini faces some stiff competition from the likes of Jane Fonda and Diana Rigg. But she's the beloved veteran of series likes "Freaks and Geeks" and "ER" and her work last season was widely acclaimed. So it might just be up to a woman to land "Mad Men" its first acting win.