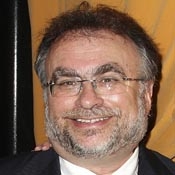 "I never understood why plays that are political or socially reflective can't be entertainment too," noted David Rothenberg, a publicist, producer, and radio host. "Part of being entertained is being elevated, stimulated. Some of our best theatre is a mirror of what's happening in society that had an enormous effect on people of its time: Death of a Salesman, A Doll's House, Waiting for Lefty, Diary of Anne Frank, and Fortune and Men's Eyes, which changed my life." That last play dealt with sexual brutality in prisons and was so compelling to Rothenberg, he founded the Fortune Society, a group dedicated to advocating for ex-prisoners.
These remarks were made as Rothenberg moderated a panel titled Can Theater Inspire Social Change?. The event was sponsored by the Drama Desk, the organization of New York–based theatre critics, editors, and reporters. The lively discussion covered a range of topics and personal experiences. The panelists were producer Richard Frankel (Hairspray, Gypsy); writer-actor-director Joseph Bologna (the films Made for Each Other, Lovers and Other Strangers, and currently Off-Broadway's Lansky, which he co-authored and directed) teaching artist–actor-writer Nilaja Sun (No Child...); actor-writer Casimiro Torres (The Castle), and John Gould Rubin, co–artistic director of Off-Broadway's Labyrinth Theatre.
Turning to Sun, whose solo play No Child... deals with inner-city schools, Rothenberg asked if her intention in writing the piece was to advocate for arts education. Sun said writing it had more to do with introducing and humanizing inner-city teenagers to theatregoing New Yorkers, who are usually frightened of them. Rothenberg maintained Sun's play ignited a discussion about the value of the arts in the school. Sun didn't dispute that, and Rothenberg persisted, "So, you're saying theatre can inspire social change?"
"Oh, yes," she responded.
Switching gears, Rothenberg asked if a play can succeed only if celebrities are starring in it. "I don't know," said Bologna. "There's a responsibility that comes with being a writer, an artist, a playwright. Culture, like water, will always seek the lowest level. If you offer something where you don't have to think, you don't have to feel, the people will gravitate towards that more than something that has pith. I like that word, pith. In Italy, before movies and television, the dumbest peasant appreciated opera. Now we think it's highbrow. But that's what was given to the people, and they embraced it." Bologna added that theatre has more competition today thanks to terrific cable programming and fine work on the Internet.
Art and Politics
Rothenberg turned to Gould Rubin, suggesting that Labyrinth's production of Stephen Adly Guirgis' Jesus Hopped the 'A' Train might be an example of good theatre that embodies social and political advocacy. Set on Riker's Island, the piece centers on such weighty issues as innocence, culpability, free will, and God.
"I don't know if Stephen would see it as social advocacy," commented Gould Rubin, who added he is bringing 'A' Train to Broadway next season. "I think the play hinges on spiritual questions, what is moral, and who thinks they are spiritually superior. And it's all about life. What Stephen did that was radical is that he put New York street talk on stage in a contemporary drama in a way that had not been done before."
"Your hesitancy makes me think that perhaps there's the notion that if something is socially advocating, it's not entertaining," responded Rothenberg.
Gould Rubin said he doesn't believe that at all, citing Elmer Rice's Adding Machine and the plays of Arthur Miller as examples of works that are both. "Whether or not a play is entertaining is a function of how much it captivates the audience's imagination when they're watching it and how emotionally engaged they are when they leave," said Gould Rubin. "Jesus Hopped the 'A' Train is very funny, very poignant, and very moving. And what that allows you to do is take in messages that may or may not be delivered on the part of the writer."
"Diary of Anne Frank did it for me as a kid," countered Rothenberg. "I never understood 6 million, but I understood one."
"Your heart was moved," continued Gould Rubin. "You were thrilled and excited. You move people by making them empathize with things they didn't heretofore share, and then suddenly they understand people and movements. But entertainment is good."
"I'm not against entertainment," Rothenberg insisted.
"I don't think you could experience Anne Frank without entertainment," said Gould Rubin. "Entertainment takes you there."
Rothenberg agreed: "There are times I see something that I agree with politically and I'm so angry because they haven't done it right." Still, he remains bothered by the idea that theatre shouldn't have a point of view. "I say this because there is a critic for The New York Times who said, 'I don't like political plays.' And I don't know how you can eliminate a category like that. Isn't it possible for theatre to have a point of view going in?"
Insidious Politics
Frankel suggested that political plays are often insidiously so. He offered Death of a Salesman as the classic case in point. "It's not a campaign for higher commissions for salesmen," he noted. "And it doesn't specifically teach us to go out and vote Democratic or go do this or that." But by emotionally opening the viewer, it makes the inherent politics more accessible, he insisted.
Bologna argued that by definition all good plays are political in that they're set in a specific time and place. "Whether you are satirizing love, which my wife [Renée Taylor] and I have done over the years, you're talking about how society is working."
Rothenberg said what's personal is political. "Our personal experiences make us gravitate towards a specific political or social perspective," he said. "And that leads me to Casimiro Torres. In the play The Castle, you pour out your life." Conceived and directed by Rothenberg, The Castle features four ex-prisoners, including Torres, recalling their lives before, during, and after prison. "And every time I see it, it's deeply moving," Rothenberg continued. "Do you think about what you want an audience to come away with after you've shared your deeply personal story?"
"Initially, my reason for doing this was more selfish," said Torres. "I really felt the need to show people that I was a human being. What began to happen was I no longer felt the need to show people that I'm a human being, that I'm capable of feeling many things. But I realize there are so many people out there still being judged by [being ex-cons], and their abilities are overlooked. I'd really like to create an awareness of the humanity that is available in so many people that are being judged and the hands that are not being stretched out to them."
The play, which is currently being presented at Off-Broadway's New World Stages, has toured many penitentiaries and has deeply affected the inmates, said Rothenberg. He talked about one prisoner who, after seeing the play, asked how he could change his life.
"I explained to him that when I began to change, what I did was I began to pick up paper I saw on the floor," recalled Torres. "It had nothing to do with me being concerned with litter. But [picking up litter] is something I wouldn't have done before, the point being I was changing every aspect of my character in order to reinvent myself into someone else."
Theatre and Personal Change
Rothenberg asked if theatre had changed anyone on the panel. Frankel recalled being raised in Brooklyn and attending plays at Café Cino, a seminal Off-Broadway theatre. For him, it wasn't a specific play but rather the heady ambiance of the time and place that was so deeply transforming: "It was the openness and the revolutionary nature of thinking for yourself."
Bologna said the Living Theatre's presentational style affected him profoundly, specifically its production of The Brig. He also cited Melvin Van Pebbles' Ain't Supposed to Die a Natural Death as a watershed moment: "The next three or four plays I went to I couldn't follow, because I was so impressed with the Van Pebbles' intensity and the rage and the pain and humor—and putting all of it into one evening. It was a masterpiece." Commented Rothenberg, "Leaving the theatre, you were not able to let go of it."
Gould Rubin talked about African-American actor Gloria Foster's brilliant performance in a production of Medea that shattered lifelong perceptions. "I had never in my young life associated the classics with people of different races," he said. "It was just not part of my childhood. I came out of that production a changed person."
Rothenberg observed that nontraditional casting can make plays that seem passé suddenly relevant. He noted a workshop production of a Clifford Odets play cast with Dominicans and Puerto Ricans. "It made the struggle of immigrants so real," he commented. "I saw Odets as a contemporary."
He asked the panelists if anyone is noticing changing audience demographics. Bologna said there are so many different media outlets -- so much entertainment competition -- it's just difficult to get a cross-section into the theatre. Gould Rubin pointed out that Labyrinth is able to attract a younger audience in part because it advertises in Time Out New York, not The New York Times. More important, ticket prices are affordable. His major concern is how one makes affordable productions commercially viable to producers.
Economic Segregation
When Sun performed No Child... at the Barrow Street Theatre, everyone paid the same amount, and there was economic and ethnic diversity throughout the theatre. But at the Wooly Mammoth in Washington, D.C., and American Repertory Theatre in Cambridge, Mass., "I understood true segregation," she recalled. "It looked to me like all the Rosa Parks were in the back of the theatre. I said, 'What is going on in this theatre?,' and I was told these people pay $70, and those people in the back pay $35. That's why the teachers are sitting back there and that's why the people who look at me with an expression of 'What is she doing up there?' are up front. I understand why you want people who paid money to be up front, but from the stage it looks weird, especially in this day and age."
Rothenberg opened up the discussion to the audience. One person asked how the panelists feel about mainstream reviewers who don't acknowledge a play's political content. She noted that when Miller's American Clock was produced, no critics said anything about the play's politics.
"We've been perceived as reality theatre," said Torres about The Castle. "We're certainly not professional actors. Some reviewers have focused on our acting skills. Others have not reviewed us at all." Rothenberg pointed out that "the New York Post, the New York Daily News, and Newsday never mentioned it," adding "but then neither has Arts Briefs in the Times. I don't know if it is class or race—or that hope is not an attractive quality, because crime dominates the media. I've been a press agent since 1959, and I'm appalled by the indifference to The Castle. The actors have never been interviewed on TV or anywhere. And I've never worked with actors with more interesting stories." A producer of The Castle, sitting in the audience, commented that he recently received a letter saying the show would be a lot better with professional actors, like The Exonerated. The letter writer "missed the point," the producer said.
Rothenberg recalled the show Viet Rock, a 1960s anti-war play he produced, and NYT theatre critic Walter Kerr saying, "It is fine that young people are against the war, but must they be so strident?" Frankel maintained that theatre can have an effect on politics, but it's more insidious than anything openly political. As an example, he talked about The Cosby Show and its iconic Huxtable family, featuring high-achieving African Americans living the upper-class life. Rothenberg responded, "There have been discussions that there would have been no President Obama without it."