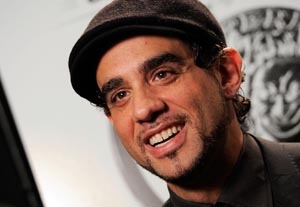 Here's another major casting announcement for the eagerly anticipated upcoming Broadway revival of "Funny Girl," which begins its pre-Broadway run in February 2012 at L.A.'s Ahmanson Theatre.
Joining the previously announced Lauren Ambrose (of "Six Feet Under' fame), who will star in the coveted role of vaudeville legend Fanny Brice in this first Broadway revisit to the Jule Styne classic is two-time Tony nominee and Emmy winner Bobby Cannavale.
 This versatile actor will take the male romantic lead role opposite Ambrose, that of Brice's flashy gambler husband Nick Arnstein, a role played by Sydney Chaplin in the original 1964 Broadway production, and by Omar Sharif in the 1968 film adaptation.
Each of these leading men played opposite Barbra Streisand in a role strongly associated with her, which earned her an Oscar in her film debut. Cannavale seems an ideal fit for the character of the charismatic fast-talker who wins Brice's heart. It will be interesting to see Ambrose and Cannavale put their own stamps on these indelible roles in this bittersweet romantic tale.
READ MORE ON BLOG STAGE