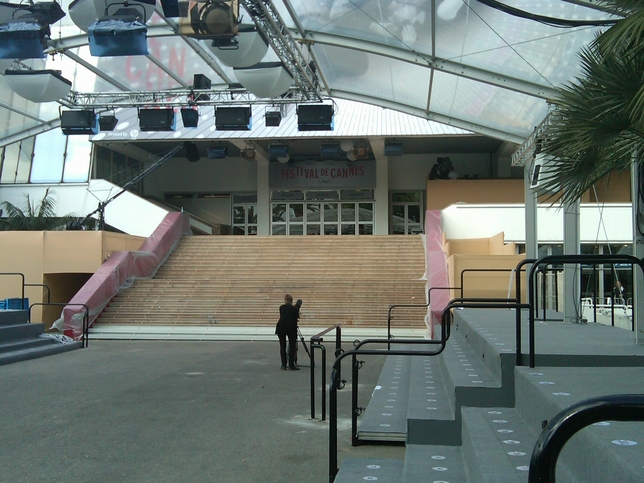 Film critic Tim Grierson is attending the Cannes Film Festival for the first time. For Backstage, he'll be filing occasional diary entries about his thoughts and impressions of the granddaddy of all film festivals.
Day 1: Tuesday, May 14, 10:31 p.m.
If, like me, you've never been to the Cannes Film Festival, one location probably registers in your mind most strongly: the Grand Théâtre Lumière. If you've ever seen a photo of celebrities walking the red carpet at Cannes, it's at this theater where they're doing it, ascending those mythical steps to enter one of the real shrines of cinema-going. That probably sounds a little precious, and it's meant to be: The festival's exclusive evening gala screenings are black-tie-and-invitation only, and even a few of my fellow film critics, who tend to be reserved in their excitement, have taken a picture of themselves outside the Lumière in their tux. We can't help ourselves: It's a moment to connect the passion of being a film lover with a physical landmark that's been imbued with so much significance and history.
So of course on my first full day at my very first Cannes, I just had to walk by the Lumière. It's still being spruced up for the big galas, which start on Wednesday with "The Great Gatsby," the festival's opening film. And yes, seeing those steps, sans red carpet, triggered many emotions in me. But I also recognized that, Hey, it's just a theater.
That realization didn't depress me. Rather, it reminded me that theaters—or festivals—are just places to visit. Yes, the stars and the glitz and that red carpet will attract media from all over the world. But today, despite the accumulation of TV crews around the Lumière, Cannes is still relatively quiet aside from the rush of journalists and industry folks picking up their credentials. The movies start tomorrow, and for now the Lumière is just a theater. Seeing it barren like it was today, I remembered it's not the Lumière that I've loved for so long—it's the brilliant movies that have screened there over the years. Maybe I'll be lucky enough to see a few such gems over the next several days.
You can follow Tim Grierson on Twitter.