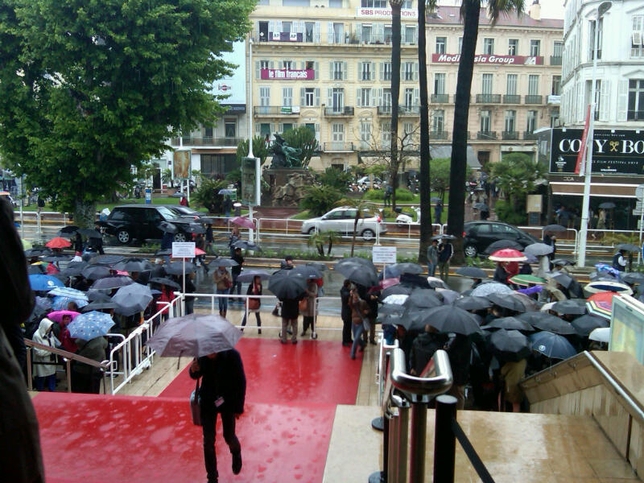 Note: Film critic Tim Grierson is attending the Cannes Film Festival for the first time. For Backstage, he'll be filing occasional diary entries about his thoughts and impressions of the granddaddy of all film festivals.
Sunday, May 19, 11:58 p.m.
If you follow critics on social media, you may notice that when they attend film festivals, they'll talk about the movies they're seeing and their first impressions right after a screening. But you also have to endure a certain amount of complaining about the dumbest stuff. Maybe it's about the bad weather. Or the long queue lines outside a theater. Or the fact that the wi-fi at their hotel is crummy. And, really, who cares?
Only when you go to a festival yourself—and have to cover it on tight deadlines—do you get a sense of why these incensed, whiny tweets start flying. And I'm sympathetic, to a point. To be fair, critics and journalists do work on little sleep and whatever food they can find between screenings. And they do this for maybe a week or two on a seemingly endless loop, sometimes digesting four or five movies a day. It's demanding work ... but it's also the work of a film critic, which is one of the best jobs in the world. We shouldn't be moaning. We should be grateful.
That's partly why I took this picture. It's from Saturday, which was the rainiest day of a very waterlogged festival thus far. Most of my socks are now soaked, and my shoes are pretty much wrecked. But it's OK. I'm at the damn Cannes Film Festival. As I was about to walk into a screening, I looked at all those umbrellas—one of those which had been mine just a minute ago before I'd walked up the theater's stairs—and I just felt this wave of gratitude. There are plenty of tougher jobs in the world. Why complain about the few things that are inconvenient when you can focus on the hundreds of things that are so great about the gig?
You can follow Tim Grierson on Twitter.