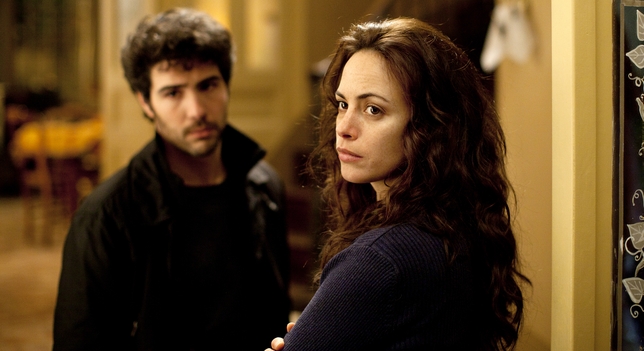 Note: Film critic Tim Grierson is attending the Cannes Film Festival for the first time. For Backstage, he'll be filing occasional diary entries about his thoughts and impressions of the granddaddy of all film festivals.
Tuesday, May 21, 12:35am
We're about halfway through Cannes, which means that about half of the festival's Official Competition films have now been screened. And a few possible contenders for the Palme d'Or, the festival's top prize, have already established themselves.
As with predicting the Oscars, guessing the Palme winner requires knowing the electorate. In this case, it's the nine-member jury that this year is headed by Steven Spielberg but also includes Christoph Waltz, Nicole Kidman, and Ang Lee. What sort of movie might move them?
Of what I've seen thus far, I'd bet on "The Past," the new film from writer-director Asghar Farhadi, whose last film was "A Separation," which won the Oscar for Best Foreign Language Film a year ago. "The Past" is a sensitive, revealing look at a former married couple (Bérénice Bejo and Ali Mosaffa) and her new lover (Tahar Rahim,). Bejo wants her ex-husband to finalize their divorce, but her children (from a previous marriage) have reservations about this new guy. From there, each character's past (and buried resentments) come pouring out.
Despite some flaws in its final third, "The Past" is a mature, absorbing drama for grownups. Plus, it's very emotional. Those are qualities this group of Cannes jury members could definitely respond to. And that to my mind puts it above other Competition entries like "A Touch of Sin" (compelling but demanding), "Like Father, Like Son" (touching but also a little lightweight) and the terrific "Inside Llewyn Davis" (the jury may decide the Coen brothers have been awarded enough over the years at Cannes).
Why should anyone care who wins the Palme? Well, for one reason, the last two years the Palme winner has later earned a Best Picture nomination: "The Tree of Life" and "Amour." And, as IndieWire's Eric Kohn has pointed out, this year's Cannes jury is filled with Oscar winners. Come awards time, Academy members might be more willing to take note of the Palme winner simply because it's been chosen by some of their own kind. There are still several days to go, with high-interest titles like "Only God Forgives," "Nebraska," and "The Immigrant" waiting in the wings. We're still a long way from Sunday's announcement of the jury awards. But the speculation is already starting.
You can follow Tim Grierson on Twitter.