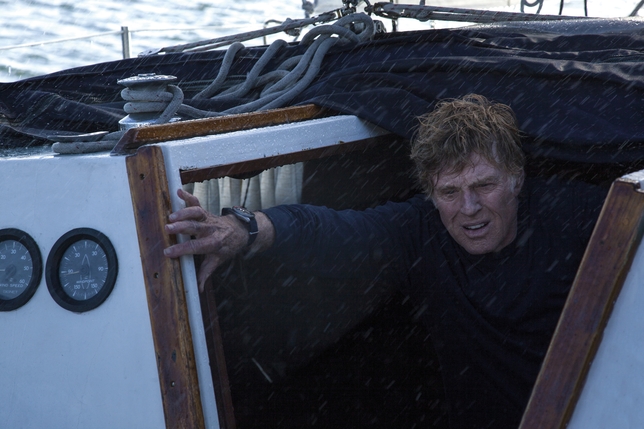 Note: Film critic Tim Grierson is attending the Cannes Film Festival for the first time. For Backstage, he'll be filing occasional diary entries about his thoughts and impressions of the granddaddy of all film festivals.
Wednesday, May 22, 11:16pm
For too long, Robert Redford has been around but not really present. Overseeing the Sundance Film Festival and popping up to introduce movies on the Sundance Channel, he's still in the public eye, but for too long he's seemingly been happy enjoying his emeritus status in the film industry. It's not like he's stopped making movies, but unfortunately in the last several years, those movies—"Lions for Lambs," "The Conspirator," "The Company You Keep"—have failed to wow critics or do much box office. Everybody regards him as an institution, but it's hard to say that many people think of him as all that relevant anymore.
"All Is Lost" might change that. Playing at Cannes as part of the festival's "Out of Competition" section, the superb drama stars Redford and only Redford as a lone man on a yacht in the middle of the Indian Ocean who discovers that his boat is taking on water. For the next 100 minutes, Redford's delivers a performance that incorporates almost no dialogue as he battles the elements, his sinking vessel, and the sinking feeling that he may be doomed.
The movie is the sophomore release from writer-director J.C. Chandor, who earned an Academy Award nomination for his original screenplay from his first film, the excellent "Margin Call." Chandor has ambitiously constructed "All Is Lost" so that we never learn much about who Redford's character is—the guy doesn't even have a name in the credits—which requires the actor to singlehandedly make us care about his plight. And that's what Redford does. His golden-boy looks diminished a little, but only a little, at 76, he possesses a rugged masculinity that makes you believe that he knows his way around a boat. But his age also makes you worry about his chances of survival, especially as the rations start to grow small.
Making Oscar predictions in May is a fool's errand, but it's hard to imagine that Redford won't at least get some consideration for a Best Actor nod thanks to "All Is Lost." For one thing, he's an industry favorite. Plus, his performance has the "high degree of difficulty" cachet that will impress voters. And don't forget that two other one-man-show movies about surviving the wild, "Cast Away" and "127 Hours," snagged Best Actor nominations for their lead. (Another prominent recent example, "Life of Pi," didn't, but it did win four Oscars.) If that all wasn't enough, I can imagine that some Academy members might also want to nominate him as a way of rewarding him for his big "comeback." Of course, he hadn't gone anywhere. But he hasn't been this vital in a long time.
You can follow Tim Grierson on Twitter.