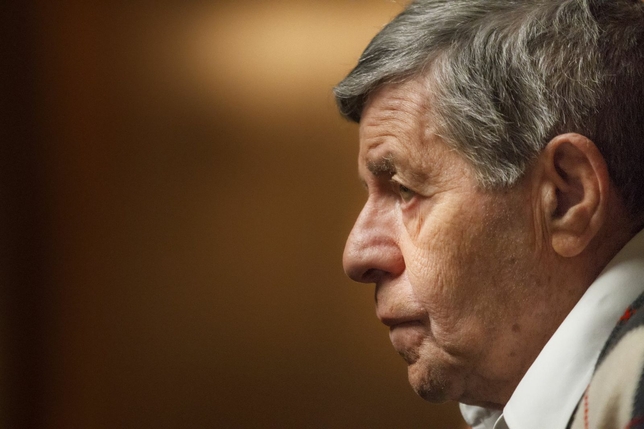 Note: Film critic Tim Grierson is attending the Cannes Film Festival for the first time. For Backstage, he'll be filing occasional diary entries about his thoughts and impressions of the granddaddy of all film festivals.
Thursday, May 23, 11:06pm
Whenever an American wants to mock France's supposed cultural and intellectual superiority, he's likely to say something like "Well, you know, they think Jerry Lewis is a genius over there." The idea, of course, is that a country that would regard Lewis so favorably must not know much about anything.
It's been a convenient knock for years, and while there's some truth to it, the fact remains that a lot of Americans (and American film critics) hold Lewis in high esteem as well, celebrating him for his talents as a comedy writer, director and star, not to mention his creative and technological breakthroughs. Yes, he's the guy who also does all the shtick with the silly voices and funny faces, but a legend he remains.
But that doesn't mean legends can't have their missteps as well, even in countries that supposedly adore them.
Lewis appeared at the Cannes Film Festival on Thursday for the premiere of the drama "Max Rose," his first starring vehicle in almost 20 years. Film festivals love crowning new up-and-comers, and they also love toasting fading stars on their way back. Cannes had an opportunity to do the latter already this year with Robert Redford and "All Is Lost." But it was not to be for Lewis.
Before the screening, Lewis attended a press conference, where he reportedly did a lot of his cranky-old-guy routine that's been his staple at recent appearances. Then somebody asked him about female comedians. And he said this in response: "[The idea of female comedians] bothers me. I cannot sit and watch a lady diminish her qualities to the lowest common denominator. I just can't do that."
It's not enlightened, but hardly controversial. (After all, Cannes has had people say far crazier things during the festival.) No, the real shame for Lewis on Thursday was his movie.
"Max Rose" stars him as an 87-year-old retired musician who recently lost his wife and suspects that she may have had an affair. Lewis, who turned 87 in March, shows some of the old sparkle, but this is a shockingly amateurish film that drowns in its own melodramatic overkill. If you're hoping for a comeback story, you'd best look elsewhere. Granted, Lewis doesn't have much to work with, but he gives a performance that strains for pathos and humor, the years of rust showing badly. It's a sad sight to witness: Rather than returning for one last hurrah, he seems hopelessly lost. Lewis may not diminish his qualities to the lowest common denominator but, still, this isn't how you want to remember your legends.
You can follow Tim Grierson on Twitter.