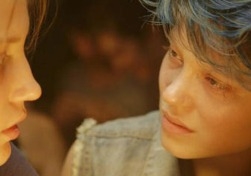 The Cannes Diary
Note: Film critic Tim Grierson is attending the Cannes Film Festival for the first time. For Backstage, he'll be filing occasional diary entries about his thoughts and impressions of the granddaddy of all film festivals.
Monday, May 26, 12:14 a.m.
Since it's so rare when an awards program (such as the Grammys or Oscars) actually selects the truly best work in its field, you have to take a moment to bask in the glory when it does happen. The nine-member jury for this year's Cannes Film Festival, headed by Steven Spielberg, got it exactly right when they awarded the top prize, the Palme d'Or, to filmmaker Abdellatif Kechiche's "Blue Is the Warmest Color (La Vie D'Adèle Chapitres 1 et 2)." A deeply moving and absorbing look at a young woman's fraught coming-of-age, the intimate three-hour film won the prize for its director, but in an unconventional move the jury decided to also award the honor to the movie's two lead actors, Léa Seydoux and Adèle Exarchopoulos. Unconventional but absolutely appropriate.
Already picked up by Sundance Selects for release in the U.S., "Blue Is the Warmest Color" will certainly benefit from its Palme d'Or win, but no doubt the content will also attract plenty of attention. While the movie is a realistic, intelligent look at a lesbian couple's maturation, buoyed by its leads' rapport, "Blue" is, unfortunately, going to be simplified as "that foreign movie with the hot sex scenes" in the press. (It's already started: An awards blog newsletter just now sent out an email with the subject heading "Cannes Fest Palme d'Or Winner: Steamy Lesbian Romp." I suppose "steamy" is accurate, but romp?)
Sundance Selects will hopefully cut not one single second from the movie, which will guarantee that it goes out into release either unrated or NC-17. "Blue" was always going to be an art-house proposition, but that restrictive rating will bar the company from certain kinds of advertising, such as in newspapers. Perhaps more worrisome, the rating may give some audiences the impression that this is a smutty or naughty film. If that's why they attend a screening—or see the movie on VOD—they'll be disappointed. Yes, the sex scenes between Seydoux and Exarchopoulos are explicit and erotic, but they're a very small (though important) fraction of this movie's running time, a piece of fabric in a rich tapestry. But for a movie this good, I'm OK with any sort of advertising angle that gets people to give "Blue" a try.
And with that, my Cannes adventure is over. I look at the jury's prize winners and I have many fond memories from the festival bouncing around in my head: the striking poignancy of Grand Prix recipient "Inside Llewyn Davis," the gentle touch of Jury Prize winner "Like Father, Like Son," the searing anger of Best Screenplay-winning "A Touch of Sin." To see these movies at their world premieres with an audience of fellow film lovers was a treat and an honor. And now everyone else gets to see them. I hope you enjoy them, and others, as much as I have.
You can follow Tim Grierson on Twitter.