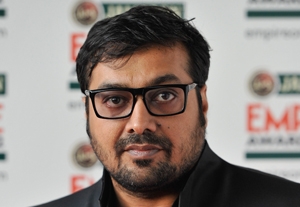 Monday was another rainy day on the Croisette as the Cannes Film Festival hit its half-way point. I spent most of my day room hopping around the Palais, trying to stay dry, and mingling with other journalists at a cocktail party in honor of Indian director Anurag Kashyap's new two-part film, "Gangs of Wasseypur."
Sitting down to speak with Kashyap, I was shocked to find out that Back Stage and Bollywood are not separate entities.
"I love Back Stage," the famous Bollywood director who was behind the controversial and award-winning film "Black Friday" said. "I have lots of theater friends and actors who depend on Back Stage."
"Gangs of Wasseypur" is part of Director's Fortnight, a sidebar of the Cannes Film Festival, and is not a typical Bollywood film. The movie spans six decades and three generations and tells the tale of feuding families set in a rural coaling community.
"Conventional Indian cinema is about people falling in love," Kashyap said. "They sing, they dance. This film uses music but no one is suddenly breaking into song and dance. The film uses music almost like a character. The film doesn't tell the story of black and white - you know, the hero that's white and the villain that's black - good versus evil. It's a story where almost everyone is evil, and everyone has their own reasons. But everyone is also nice. It does away with the cardboard characters, the way normal Bollywood films are made."
In other foreign film happenings, French director Alain Resnais premiered his in-competition film "You Ain't Seen Nothing Yet," which has been described as a "love letter to the acting profession."
The French actors (Michel Piccoli, Matheieu Amalric, Anne Consigny, Lambert Wilson) play themselves in the film. When they hear about the death of a director, they receive his last request: to watch a production of his play "Eurydice," a play they had all acted in previously.
At the press conference for the film, Resnais spoke about the differences between film and theater. 
"People often say that the theater is a noble art whereas films are not," he said. "But in both cases, you need actors, and both plays and films need to keep an audience enthralled. When a scene is being played in the theatre, you can't raise your hand in the room and say, 'I didn't really understand. Can you start that scene again?' You have to listen and try to understand. And at the cinema, up until now, I haven't seen anyone go to the technical staff and say, 'Could I please see the second sequence again because I fell asleep in the middle of the film?' These are parallels between the theater and the cinema."
While these past six days have been strictly about film in Cannes, the theatricality of each red carpet production and beachfront party has not been lost on this avid theatergoer. Resnais's film might not have been a hit with the critics, but he definitely knows how to talk about art.

Keep up with all the fun at the Cannes Film Festival by checking out  daily reports on BackStage.com, and follow @BackStageCast on Twitter for live updates.