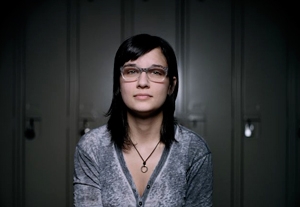 Montreal filmmaker, Chloé Robichaud is no stranger to Cannes. With two festivals already under her belt, the 24-year-old Quebec native is a seasoned professional. However this year is different for Robichaud. This year she's competing for a Palme d'Or.
"Having a film in competition makes me feel like I'm here for the first time," she told Back Stage.
In 2010, she was in Cannes with her short film "Moi Non Plus," which was part of the Short Film Corner sidebar. The next year she was back with "Nature Morte," which was selected as part of Quebec showcase.
But now she is in the big leagues with her short film "Chef de Meute" competing against nine other films in the official selection.
Back Stage got the chance to sit down in the Canadian Pavilion with Chloé to discuss her movie, film festivals, and what's next for the rising director.
Tell me a little bit about your film. Chloé Robichaud:
Well it's the story of Clara. She's a young woman in her thirties, and well she's quite lonely. She inherits the dog of her aunt, and she has to gain confidence to train the dog.
What inspired this story?Robichaud:
I had a dog two years ago, and I had to go through the same process getting to know my dog and learning to be the leader of my dog. I thought, "Oh there's a story there," and I transferred it onto a character.
How did you cast it?Robichaud:
The star of the film is Ève Duranceau, and I've worked with Ève before. I'm actually currently working on a feature film, and she's in it. She's not the star, but she has a good role in it. So, when I thought about the story. I thought it was for her. So, I wrote it for her, and I told her, "I want to do it with you. If not, I won't do the film." So after that, we really based all of the cast around "Clara," around Ève Duranceau.

What is your background in filmmaking?Robichaud:
When I was in high school, I took every opportunity to film stuff. So, I had my camera, and I made movies with everything. Then I went to cégep [public college] in Quebec in cinema. I did two years there. Then I was accepted at Concordia in film production. So, I did a few short films at Concordia, and then after, I did a short session in Nice. It was a cinema school, and I did directing there. And now, I'm on my own, done with school.
Did you always want to make movies?Robichaud:
Well, I have watched films since I could watch films. And the first time I held a camera in my hand, I kind of knew it was for me. I think I was twelve, and the decision was made. I wanted to be a filmmaker. I think my parents didn't think was a good idea, but now it's fine!
So you're working on a feature film now?Robichaud:
Yeah, I'll be shooting in August my first feature film which should be released in 2013.
Can you tell me what it's about?Robichaud:
It's called 'Sarah Runs" and it's about a woman. She's twenty, she comes from a small city, and she does running in an athletic team. She's approached by the best team, but she doesn't have the money to achieve her dreams. So, she decides to marry, because in Quebec, if you get married you can get loans and grants from the government, but you know a wedding is more than a word, so it has some consequences.
How does Cannes compare to other film festivals?Robichaud:
Well Cannes is the biggest one. When you want to meet people, you have to be in Cannes. It's a visibility opportunity, and it's also a dream. To me, Cannes was my biggest dream, I think with the Oscars too. Since I've been a child, I've wanted to have a Palme d'Or, so just to be here and have a chance to maybe win it, it's a dream.
Keep up with all the fun at the Cannes Film Festival by checking out my daily reports on BackStage.com, and follow @BackStageCast on Twitter for live updates.