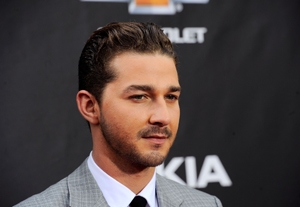 Day four of Cannes was a thrilling romp. Most of my day was spent inside the Grand Théâtre Lumière and the Salle Debussy watching movies to prepare for cast interviews the following day.
And while the two films I saw might not be everyone's cup of tea, they definitely did not disappoint this film-starved journalist, who after three days here had only managed to see one movie.
I started my day bright and early, lining up at 7 a.m. to see John Hillcoat 's ("The Road") "Lawless," starring Shia LaBoeuf, Tom Hardy, and Guy Pearce among others.
The story is set in Prohibition-era Virginia and tells the "true" story of the three "invincible" Bondurant Brothers, who make moonshine, battle gangsters and corrupt cops, and somehow manage to score beautiful girls in the end.
The level of violence was high, but at the press conference following the screening, LaBoeuf defended the gore.
"It's messy, it's dirty, and it's realistic," LaBoeuf said. "It's not rehearsed like a ballet. It's rough around the edges."
The movie shows gruesome beat downs, a violent throat slitting and even a man being tarred and feathered, but probably the most scarring sight is Guy Pearce as the movie's main villain. Dressed to the nines with shaved eyebrows and hair parted so wide down the middle that he obviously had to take a razor to his head, Pearce embodies his role as villainous dandy.
According to director John Hillcoat, he sent a picture of Pearce to writer Nick Cave who showed it to his two boys, and apparently, they were so scared they did not eat for two days.
After the "Lawless" press conference, I high-tailed it to a sandwich bar, where I accidentally stole someone else's sandwich, and then went to wait in line to see Brandon Cronenberg's "Antiviral."
Son of the legendary David Cronenberg, who also has a film, "Cosmopolis," at Cannes, Brandon doesn't fall far from the tree. The film takes place in a world where people have strains of live viruses of celebrities injected into them to feel an ultimate connection.
Cronenberg's story follows one clinic employee who injects himself with viruses to sell on the black market before he is infected with a mystery virus from a major celebrity and all hell breaks loose.
One theatergoer said it best as we were leaving the theater: "That was dirty and nasty and great. God bless the Cronenberg family."
Saturday night in Cannes was an event to itself. I saw French actress Sophie Marceau walking into a bar along the Croisette and watched as girls were sized up like cattle at the door of every beachfront club, where even the really pretty ones did not always get in, and men without loads of euros to drop did not stand a chance.
Partying like a celebrity is not hard to do in Cannes, but apparently partying with one is a little more challenging.
Keep up with all the fun at the Cannes Film Festival by checking out my daily reports on BackStage.com, and follow @BackStageCast on Twitter for live updates.