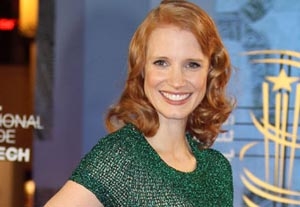 All I heard was a voice, and I knew that Chris Rock was behind me. My third day in Cannes was full of surprises, but that was not one of them since I was about to walk into the press conference for "Madagascar 3."
While an unlikely choice for a film at Cannes, the animated feature, which was playing out of competition, was the celebrity event of choice. All of the stars and more were in attendance, including Jada Pinkett Smith, Ben Stiller, Jessica Chastain, Chris Rock, Martin Short, and David Schwimmer.
"We went to opening night and saw our cartoon, and we thought 'Do we deserve to be here?'" co-director Tom McGrath asked at the press conference. "But the great thing about Cannes is that it's a festival for all kinds of films."
The movie is in 3D, and McGrath said that they wanted "to create something surreal, abstract, imaginative."
Newcomer to the series Jessica Chastain discussed joining the team, and her love of acting.
"I loved the first two films," she said. "I auditioned for this role and when I was called back I was delighted. I started in theatre; I like to change genres. That's what I did with 'Madagascar 3.'"
I spent the day celebrity spotting, mostly by chance. Jackie Chan was on the Croisette after announcing that he is retiring from action movies. According to Chan, his latest movie "Chinese Zodiac" is his last action role because he's "really, really tired." Fortunately for all "Rush Hour" fans, he's not giving up his acting career, as Chan says he aspires to be an Asian Robert De Niro.
After a little wandering and beach mingling, I somehow managed to score an invitation to the official selection screening of Matteo Garrone's ("Gomorrah") in competition feature, "Reality."
(Apparently, all you need to get an invite is a sign offering free hugs in exchange for passes, and four gorgeous Swedish girls in your group also giving out the aforementioned hugs.)
My ticket was in the orchestra, and I got to walk the red Palais steps like a true celebrity. Sean Penn, who held a gala for Haitian relief the night before, was mere feet away from me on the red carpet.
I somehow managed to make it up the steps without tripping (a serious concern) and was shown to my seat three rows from the front and in viewing distance of Garrone and the movie's cast.
Unfortunately, a lady's head was blocking the subtitles, so a few things were lost, Nonetheless the story about an Italian fishmonger who becomes obsessed with being cast on a reality TV show was gripping.
The lead actor, Aniello Arena, was impressive in his first film role and noticeably absent from the premiere due to incarceration. He has been in prison for twenty years where he is serving a life sentence for murder and was only allowed out to film the movie.
"I wanted him to appear in 'Gomorroah,' but the judge wouldn't allow it," Garrone said at a press conference. "We received the authorization for him to appear in this film, but he was not allowed to come here to Cannes."
Keep up with all the fun at the Cannes Film Festival by checking out my daily reports on BackStage.com, and follow @BackStageCast on Twitter for live updates.