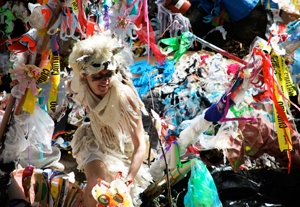 As one of two Americans chosen out of 1500 student submissions for the Cinéfondation Selection, Meryl O'Connor's short film "The Ballad of Finn + Yeti," had made its way to the Cannes Film Festival.
O'Connor made the film with her brother and a good friend, and she sat down with Back Stage to discuss her film and working with actors.
What is you movie about?Meryl O'Connor:
It's the story of a street musician who goes dumpster diving, and she goes into the dumpster and the lid slams shut on her and she ends up getting trapped in there. She kind of finds her way through this portal. It's basically a "through the rabbit hole story" into this trash forest that's kind of this fantastical world inhabited by a yeti, and from there, it just goes on their sort of evolving relationship.

What was your inspiration for the film?O'Connor:
It came from a lot of conversations. The main actress is a good friend of mine, and we've collaborated a bit on projects together. And I think that we both have this sort of shared interest in alchemy and transformative processes. I remember having this conversation with her about some of these philosophical concepts that we shared and what that would look like trying to communicate that process on film. And after that conversation, I really started to think about that and how I really wanted to make a movie in this kind of abstracted metaphorical form. So that was sort of the initial spark for the film, and from there it took on many other forms.
As a director, what's important for you in an actor?O'Connor:
It really depends on the role. I've worked with both actors and non-actors, and I think when working with non-actors its important that the person can connect to the character in a way that doesn't feel far removed from themselves. That way it's more accessible and makes it easier for them to fall into the role…They have to be a really good listener and have a good imagination. As a non-actor, if they have those qualities, I can get them to the place they need to be in the movie. But then I think with an actor, I think it really just depends on the role. You need someone who can access specific qualities. It's just different for me from role to role and movie to movie what I'm looking for in that sense.
What does it mean for you to be part of the Cinéfondation?O'Connor:
It's a great honor to be here. That's extremely exciting. The feeling that I get is that everyone has just been really warm and welcoming, and I think it's about building a community. I get the sense that these are people that I can be in touch with. Obviously we're all at starting points in our careers right now, but it seems like one of the things that's important to the Cinéfondation is the idea of building community and giving us support. I've definitely been feeling that, and that's very special and very cool.
Keep up with all the fun at the Cannes Film Festival by checking out daily reports on BackStage.com, and follow @BackStageCast on Twitter for live updates.