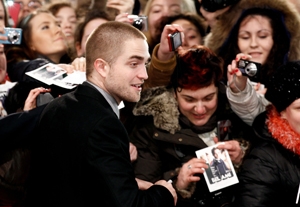 I spent my Friday afternoon at Cannes in a master class with legendary director Philip Kaufman ("The Unbearable Lightness of Being").
During the master class, French film critic Michel Ciment asked provocative questions, guiding Kaufman through his body of work. Clips were shown from a selection of his works including, "Goldstein," "The Great Northfield Minnesota Raid," The Wanderers," "Henry & June," and "Quills." Nicole Kidman and Clive Owen, who star in his new film "Hemingway & Gellhorn," were in attendance.
Speaking about casting actors, especially those that are not well known, Kaufaman said you just "perceive something that tells you 'this man is great.'"
"Now, we were shooting a low budget film ("The Great Northfield Minnesota Raid") for well under a million dollars up in Oregon during a rainy season, so we had no time for a rehearsal really," Kaufman explains.  "[Robert Duvall] had read the script. I liked him. I was with the cameraman when around the corner comes Duvall and three of these guys, and Duvall begins saying some lines I had written. I'm hearing them, and it was like a dream come true. I was amazed that that was my Jessie James. That was the spirit of it. It was, for me, my first kind of miracle about what great actors do. They transcend or realize what can be there. I don't know how you cast. You have a divining rod, and if it starts shaking, there's water there, and you hope so much that you'll get great sympathetic actors. I'm not the kind of director who has the bullhorn and says you must do this and that. I can suggest. I ask certain things. The greatness of actors always baffles me."
Kaufman also discussed "Hemingway & Gellhorn," which premiered later that night and tells the tumultuous love story of Ernest Hemingway and Martha Gellhorn during the Spanish Civil War and after. 
While I was watching this historical drama, which was made for HBO, everyone else on the French Riviera was pining to see "Twilight" star Robert Pattinson as he made his way down the red carpet for the premiere of his new movie "Cosmopolis."
Hoping to break out of the "Twilight" mold, Pattinson faced harsh criticism for his performance.
Speaking at a press conference, Pattinson confessed that "I can't explain what the movie is about."
"I spent two weeks in my hotel room worrying and confusing myself," he said.
Director David Cronenberg spoke about similarities between Pattinson's role in "Cosmopolis" and his alter-ego, Edward Cullen.
"It is very easy to say that the character played by Robert is a kind of vampire that sucks the blood out of Wall Street," he explained. "But an actor cannot play an abstract concept."
Keep up with all the fun at the Cannes Film Festival by checking out daily reports on BackStage.com, and follow @BackStageCast on Twitter for live updates.