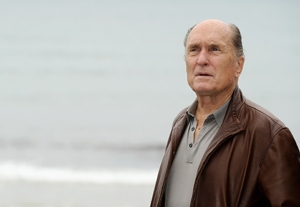 Robert Duvall's career spans a series of classic characters and performances in several of cinema's all-time greatest films. So, after you've played consigliere to the Godfather, worked with Sidney Lumet and Paddy Chayefsky, and directed yourself to an Oscar nomination, what could possibly get you excited? "Anytime I hear about a guy that wants to go to his own funeral, I think that's pretty unique," Duvall says about his latest film, "Get Low," adding, "And you know they're not gonna do a sequel or a remake in 10 years." In the film, Duvall plays troubled hermit Felix Bush, who, after 40 years of living alone, throws a funeral party for himself—while still alive. Supported by an all-star cast—including Sissy Spacek, Bill Murray, and Lucas Black—Duvall shines in the lead role and secures a spot for Bush on the actor's list of unforgettable characters.
Although Bush has spent his last 40 years shunning society, Duvall has been doing anything but, appearing in one film after another. Emblematic of his high-profile career is the film that established Duvall as a character actor, "To Kill a Mockingbird." Some say his character in that film, the ghostly Arthur "Boo" Radley, is similar to Bush: solitary and misunderstood. "There is a bit of a kinship, but not really," Duvall notes. "[Boo Radley] was kind of a recluse and a little off. For my character in this one, it was a self-chosen thing to do what he did, to go into a hermetic life; he could've been a doctor or a lawyer or a sheriff or a world traveler, but he chose that."
But "Get Low" contains an eerie and quite sad connection with the film that gave Duvall his start: Horton Foote, the screenwriter of "Mockingbird," died during the shooting of "Get Low." Duvall says, "It was very spooky. The day of the funeral party, as the mule came on with the coffin, my wife, Luciana, was off camera, and she received a call that Horton Foote had just died. Horton Foote was one of our great writers, and it was sad because I had told him that I wanted him to see this picture because it reminded me of his writing. When I came off set, it was very emotional; it was like full circle for me."
Just Doing It
In the 1970s, Duvall became a go-to actor of the New Hollywood cinema, working with Francis Ford Coppola on two of his most acclaimed projects—"The Godfather" and "Apocalypse Now"—earning an Oscar nomination for each. Also in that decade, he worked with George Lucas as the title character of "THX 1138," appeared in Lumet's "Network," played Maj. Frank Burns in Robert Altman's "MASH," and delivered his third Oscar-nominated performance in "The Great Santini." Duvall would finally win the Oscar for "Tender Mercies" in 1984.
Duvall's most recent credits include "Thank You for Smoking," "The Road" alongside Viggo Mortensen, and "Crazy Heart" with Jeff Bridges. Despite Duvall's magnificent range and ability to transform himself convincingly, his process sounds surprisingly simple. "Study the lines and think about it," says the actor. "When action is called, you talk and listen, listen and talk, then cut. It's just kind of a natural thing."
Duvall also emphasizes acting in the moment. "Don't try to get a result, but let the process take you to the result," he advises. "Not anticipating, just keeping it very simple. You think about it, and when you come to do it, you throw that all out and just go ahead and do it." Spacek, Duvall's co-star in "Get Low," also notes the actor's seamless preparation. She recalls, "I thought, 'I want to go and work with Robert Duvall, and I'm going to study his process. This is going to be so amazing.' You can't see his process. He shows up on set and he is the character, and you never see any wheels turn."
Duvall regards "Get Low" as worthy of the body of classics in which he has appeared. "I think that the independent filmmaking process is outside the system, where in the 1970s it was in the system—all those films made by Coppola and Scorsese and all," says Duvall. "But I do think that 'Get Low' could've fit in with those movies in the 1970s." While only time will
tell whether "Get Low" will stand as one of his landmark films, it marks an important performance by one of Hollywood's most versatile and long-lasting artists.    
OUTTAKES
-Says "Get Low" is his wife's favorite film of his since "The Apostle"
-Studied under Sanford Meisner in New York City; fellow students included Gene Hackman and Dustin Hoffman
-An avid tango dancer, he wrote, directed, and starred in the 2002 film "Assassination Tango"