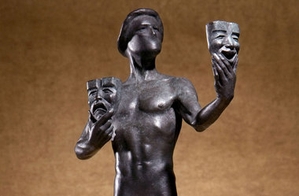 "I'd like to thank my casting director."
Those aren't usually the first words of an awards season acceptance speech, but increasingly casting directors are getting a shout out from the Hollywood lectern. From Bryan Cranston to the stars of "Modern Family," casting directors are now on the receiving end of accolades from the performers to whom they gave roles.
When the cast of AMC's "Breaking Bad" took the stage last Saturday after winning the SAG Award for TV drama ensemble, Cranston first thanked Sharon Bialy and Sherry Thomas, who have worked on the series since the pilot. "Our casting directors, terrific job," he said.
Also at the SAG Awards, Sofia Vergara thanked series casting director Jeff Greenberg while accepting the cast's fourth SAG Award for comedy ensemble.
Richard Hicks, president of the Casting Society of America, calls the accolades a "lovely surprise."
"CSA is grateful to the casts of both 'Breaking Bad' and 'Modern Family' for recognizing the work of their Casting Directors in creating such terrific ensembles," he told Backstage. "Whether in television, film or theatre the quality work our members do to help create those ensembles is something to be proud of. Our thanks to them both."