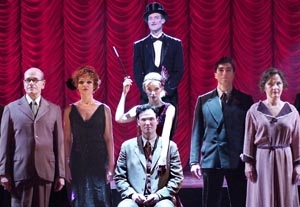 To helm its production of "
Cabaret
,"
Reprise Theatre Company
turned to director Marcia Milgrom Dodge (Broadway's 2009 "Ragtime"). She had done a lively, wry job in 2010 with Reprise's "How to Succeed in Business Without Really Trying." But would she be able to overcome the legendary stamps put on the John Kander and Fred Ebb musical?
Dodge, in turn, broke other molds. Her Sally Bowles is waiflike soprano Lisa O'Hare (Mary Poppins in the West End's "Mary Poppins," Eliza Doolittle in the national tour of "My Fair Lady"). For her Emcee, Dodge cast rocker Bryce Ryness (2009's "Hair" on Broadway, "Legally Blonde" on Broadway, Floyd in the Los Angeles premiere of "Floyd Collins").
In another act of brinkmanship, Dodge and her cast had two weeks to collaborate on the show before it opened. She, O'Hare, and Ryness spoke with Back Stage during a lunch break on their fourth day of rehearsals.
Back Stage: Marcia, why did you cast these two?Marcia Milgrom Dodge:
It's a chemical reaction, something that has to happen in the room—a combination of charisma, incredible craft and ability, and authenticity. And it did for me, with both of them. It just was exciting. I think they're really in their skin.
Back Stage: When performers walk into the audition room, do you chat first or have them sing?Dodge:
We chat. I have to hire nice people. I try to make them feel comfortable. I think auditions are the worst for both sides of the table. They're just awful. But it's the only way to do it. I've tried to cast from looking at somebody's little video clip, and I need to smell them. I need to be in the room with them; I need a tangible experience; I need to feel the relationship and how that's going to be. I love Reprise, but the sad thing is we don't get a lot of time to just do that, so I have to hire highly skilled people who come in prepared and are ready to work and are off book the day after we stage their scene. That comes from just getting a sense and talking to people and looking at their résumés and finding out if they're fun to have in the room. And I mean fun in a serious way, meaning it's playful but it's not egocentric.
Back Stage: Bryce and Lisa, how did you prepare for your auditions?Bryce Ryness:
My wife and I were in Princeton, N.J., finishing up the run of "Sleeping Beauty Wakes" there. [The show was] transferring to La Jolla Playhouse, so I was going to come up [to L.A.] on my day off and do the audition. While in Princeton, I spent an hour a day for four days in a row, preparing the two audition pieces: "The Money Song" and "Willkommen." I just went into training camp for myself, made sure that I really knew the material and developed at least some sort of perspective on what the song was about for me, and worked really hard on getting off book. It's a style of theater that I don't traditionally do. I'm much more of the pop-rock, "Rent"-type world. So this is a bit of a stretch for me, but I'm really diggin' it. It's nice.
Lisa O'Hare:
Well, initially I sort of had a little bit of a freak-out moment and did what all actors do and said, "Oh, that's not me—I can't sing like that," just because in a certain sense you sometimes get pigeonholed when you've done a certain amount of roles, and you start to believe that's all you can do. And I've done a lot of classical musical theater roles, and I'm a legit soprano, so for me this is a bit of a daunting thing. Just going into the audition, you have to own it, you have to find your own way. And so I got in touch with a new singing coach, Steven Sweetland. I told him a bit of my history and just said, "You need to help me, because I know I can't go in and sing it how I would sing it, 'cause they're not going to cast me, 'cause that's not right for the character—it's not authentically Sally. But I don't have the balls to sing it how I know it's supposed to be sung." So he basically took me back to square one and said, "Right, we're going to pretend like you don't have any technique, you don't know how to sing." And that was terrifying for me. But it was the best thing I've done in a long time, not only just [because it helped me develop] a new vocal quality but also as an actor to sort of be in a room and be so terrified. It's kind of a liberating experience. And to make a noise and not really know quite how it's going to sound is also quite liberating. When you've been in that kind of classical musical theater world—and I was trained in ballet so I'm used to keeping a real hold on myself and just having the freedom to make noise and it not necessarily sound how you think pretty should sound—[this] was different. And then I went into the audition and fessed up entirely and said, "This might sound like, you know, something terrible—"
Dodge:
But it was good for us to know that, because it's still two intensive weeks of eight performances a week with a new muscle. But I looked in her eye, and I knew she was going to step up and she was going to sing healthy.
Back Stage: Bryce, what do you remember about going into the audition room?Ryness:
I remember the piano player played "The Money Song" really fast, and there's this really rapid patter section. So I'd practiced it at like 120 beats per minute, and he was playing in the 150, 170 area.
Back Stage: Did you ask for a goes-over?Ryness:
No. My audition technique is that I like to get very prepared for it, so that I can be totally spontaneous and totally improvisational in the actual audition room. If I'm prepared enough, then I trust that if something is thrown at me, the way I'll respond will represent the character or represent the attitude and the life of the show I'm auditioning for. If I'm unprepared, I'll just go back to who I am or what I do or the last three hours of my life, whatever that was. If I was riding the subway, I'll start cursing at people. But if I've really done the hard, unglamorous work—of studying the lines and saying them to a wall and then saying them to a mirror, and then saying them to my wife, and then saying them to my 2-year-old—that way if a curve ball comes, I can field it and do a "yes, and," instead of a freak-out, "I gotta stop, we gotta do this over again, and I need it exactly like this." People like Marcia and Gilles [Chiasson, Reprise producing director] and Amy [Lieberman, casting director], who are on the other side of the table, they can sense when something is awry, when a song is going a little too fast. That becomes my chance to shine in that regard. They know, "It's a runaway train; let's see what he does with it." And they get to see, "Okay, this isn't just a standard audition, go in, sing the 16 bars, and then leave." They see what my personality is, how I handle adverse situations, 'cause for something like Reprise, it's all adverse situations.
Dodge:
And that's the kind of actor I want to work with. I don't want to work with somebody who says, "Stop, it's too fast." Not that it wasn't too fast. But I would much rather work with the fearless risk taker than the careful, "I need it exactly this way."
Ryness:
I kind of love walking in, "Let's see how it goes."
O'Hare:
You're on your own there.
Dodge:
Look, the show scared the crap out of me, too. I'm up against the movie and the revival in '87 and then the next revival in '97, '98. It's as much a challenge for me, but I never approach it like I'm going out to do something different for the sake of being different. I'm going at the material the way I think the material is singing and speaking and moving to me. With my fabulous designers, I started throwing them thoughts and ideas and clues about how I wanted to tell the story and what the environment was going to be. And they clicked into that thinking, and we're all on the same wavelength, and it's a fresh, original approach because I would never steal someone else's idea. That would be horrifying. I wouldn't want them to steal mine.
"Cabaret" continues at the Freud Playhouse, UCLA campus, Sunset Blvd. at Hilgard Ave., L.A., through Sept. 25. Tue.-Fri., 8 p.m.; Sat., 2 & 8 p.m.; Sun., 2 & 7 p.m. (310) 825-2101. www.reprise.org.