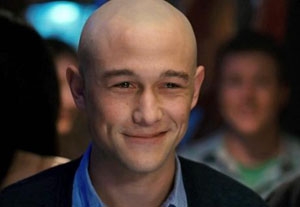 "Cancer comedy" may be considered an oxymoron, but "
50/50
" addresses the disease with sincerity and good humor. The film tells the story of 27-year-old Adam (Joseph Gordon-Levitt), who is diagnosed with a rare form of cancer, and his best friend Kyle (Seth Rogen), who attempts to help Adam as the cancer progresses. Rogen had a personal connection to the project before it began development. His good friend Will Reiser, a fellow comedy writer, wrote the screenplay based on his experience of being diagnosed with cancer six years ago. Though Reiser eventually received a clean bill of health, Rogen encouraged his friend to pen the screenplay while receiving treatment. Aside from acting in the film, Rogen is also a producer, allowing him to be heavily involved with creative and casting decisions.
Rogen told Back Stage in September that he attended almost all the auditions. He reported that the role of Adam's unlikable girlfriend, Rachael, was in particular difficult to cast. "We had to read people, which is always tough to do, especially when you want really high-caliber actors, because a lot of them don't want to read. But we had to." Fortunately, Bryce Dallas Howard won the role. Says Rogen, "If [the role is portrayed] too much in any direction, it can kill the whole movie. It needs to be someone who you get why he's with her, but at the same time you don't like her, even though you understand where she's coming from." Rogen had known Howard for some time and recalled that when she auditioned, "[Howard] was so impressive. And she does so much in the movie without you even realizing it."
Director Jonathan Levine, Rogen, and the film's other producers worked with casting directors Francine Maisler and Sandra-Ken Freeman to build the rest of the cast. Masiler handled casting the other major roles, besides those played by Rogen and Gordon-Levitt. Freeman cast the smaller parts using local actors in Vancouver, Canada, where the majority of the film was shot.
Levine met with Freeman a few times to discuss the direction of the characters. He and the producers were involved with the content of the breakdown, and then all of them participated in the casting sessions, deciding who would get a callback and eventually be cast. "It was a long process. We were casting right up until even after we started filming," says Freeman.
Local casting was essential for the film, given its $8 million budget. Freeman recalls, "We received some self-taped submissions from Los Angeles, New York, all the major centers that have clients available to work up here. But it was a necessity to cast a lot of the roles out of here for budget purposes. It's hard to fly people in, but we have a really good bunch of actors up here. In some cases, we did have auditions for roles in both the U.S. and Canada. Jonathan just wanted to find the best actors."
Even though Freeman says she and Levine "had a lot of the same tastes," she was happy to provide him with talent he may not have considered initially. "My job is to put people in front of his face that he may not know, or not at first glance be quite what he was thinking of," she says. She estimates that for "50/50," she cast roughly 30 actors, including Canadian performers
Matt Frewer and Andrew Airlie. "It's always exciting when you can show the director somebody that you personally like for the part. Andrew and Matt are two of my favorite actors anyway, so I was very pleased they received good roles in the film." She adds of Frewer, who plays a fellow cancer patient, "I thought Matt did a really good job. I knew he would from the first time I saw him audition."
Freeman cites Levine's open mind as the reason the film was an enjoyable experience for her and the cast. She says, "He was one of my favorite directors to work with. He's very confident with what he's doing, but he's very open to hearing other people's opinions, and, as a casting director, that's very exciting. I think what we ended up with was a really great cast. Even with the smallest roles, I was very proud of it when I saw it."
Casting Directors: Sandra-Ken Freeman, Francine Maisler
Director: Jonathan Levine
Writer: Will Reiser
Starring: Joseph Gordon-Levitt, Seth Rogen, Anna Kendrick, Bryce Dallas Howard, Angelica Huston, Serge Houde, Andrew Airlie, Matt Frewer
The Pitch: Based on a true story, this comedy is about a 27-year-old (Gordon-Levitt) who is diagnosed with cancer, and his experiences while trying to overcome the disease.To read Back Stage's complete coverage of Awards Season, please get our FREE SAG Nomination Committee Guide. Or follow all our daily coverage with Back Stage's new online Awards Season section.