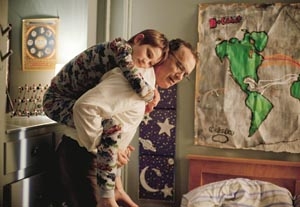 Casting director Mele Nagler scoured the world trying to find a boy who could believably portray 11-year-old Oskar Schell, the precocious protagonist in "Extremely Loud and Incredibly Close," adapted from Jonathan Safran Foer's novel. Over the course of the film, Oskar goes through a complex, keenly felt journey, so Nagler and director Stephen Daldry knew they needed an actor who had just the right combination of razor-sharp intellect and emotional availability. "Oskar is smarter than most adults," says Nagler. "He's an astute observer of the world. At the same time, the character is going through a tremendous loss—a loss that even your emotionally evolved adult would have a hard time going through. How do you find a child who can access that?"
At one point, Nagler recalls, she was getting audition tapes "by the truckload" from places as far-flung as Canada, England, and Australia. In addition to employing the usual casting methods, Nagler says she and the filmmakers tried to think "outside the box." In one of those outside-the-box moments, producer Scott Rudin mentioned that he'd seen a bright youngster named Thomas Horn win "Jeopardy!" during Kids Week the year before. Nagler tracked down Horn—who had never acted before—through the show. Horn put himself on tape and was eventually invited to be part of a "boot camp" involving the final set of actors being considered for the role. "It's an idea we stole from Stephen, because it's something that he does with all of his worldwide companies for 'Billy Elliot,' " Nagler says. "We brought them to New York and had them work with Stephen and his team for about a week. That process is pretty grueling."
Through that process, the pool was narrowed down to Horn (who was 12 when he first auditioned and is now 14) and one other actor. "Then you take the leap," Nagler says. "Stephen has said this and I now live by this: At a certain point, you have to believe that this is the child and leap with them. It was clear that Thomas is an unbelievably special child, and now we're all at the point where we can't imagine it being anyone else."
While Nagler was searching for the perfect Oskar, casting director Ellen Lewis was busy assembling a colorful crew of supporting characters, featuring A-listers Sandra Bullock and Tom Hanks as Oskar's parents and beloved character player Zoe Caldwell as Oskar's grandmother. In every instance, Nagler reports, actors responded to the project immediately and with enthusiasm. "It's an amazing script and an amazing story that cannot help but touch someone," she says. "Whether you knew the book or read the screenplay, it was a project you wanted to be involved in."
Lewis recalls that she and the filmmakers took "a deep, deep look throughout Europe" for actors, whether known or obscure, to play the pivotal role of a man renting a room from Oskar's grandmother. Ultimately, Max von Sydow won the part. "I had been lucky enough to cast him in 'Shutter Island,' " says Lewis, "so I was familiar—as any cinephile would be—with his amazing work."
John Goodman, James Gandolfini, and Jeffrey Wright also stepped in as key supporting players, and Viola Davis has a memorable turn as an important woman Oskar meets on his quest. "Scott Rudin had just worked with her in 'Fences,' where she had won a Tony, and was really committed to the idea of her in this role," says Lewis. "It could have gone many different ways, but you just couldn't say no to her in this role."
One part of the job Lewis particularly relished was casting "wonderful New York character actors" like Adrian Martinez and Joseph McKenna in smaller supporting parts. Additionally, she enjoyed combing through submissions and seeking out players with various unusual talents. "We always look through every picture we get, really try to work with everybody," she says, "because you never know what you're going to be looking for."
For instance, one smaller role required an actor who could play the cello. "There were several wonderful young actresses who played cello," says Lewis, but up-and-comer Jenson Smith ultimately won the part. "You just really get to meet wonderful people during the casting process. I always feel the small roles are what give the fabric and texture to a film. No role is too small, because in a wonderful project like this with a wonderful director, every single person is important. Every face is important."
Casting Directors: Ellen Lewis and Mele Nagler
Director: Stephen Daldry
Writer: Eric Roth, based on the novel by Jonathan Safran Foer
Starring: Tom Hanks, Sandra Bullock, Thomas Horn, John Goodman, James Gandolfini, Viola Davis, Jeffrey Wright, Max von Sydow
The Pitch: A boy (Horn) embarks on a quest through New York City to find the lock that fits a mysterious key left behind by his father, who died in the World Trade Center on 9/11.To read Back Stage's complete coverage of Awards Season, please get our FREE SAG Nomination Committee Guide. Or follow all our daily coverage with Back Stage's new online Awards Season section.