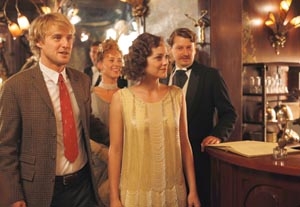 Juliet Taylor has been casting movies for Woody Allen since the early 1970s, yet she still finds a special kind of thrill in embarking on a new project for the celebrated auteur. In the case of "
Midnight in Paris
," Allen's time-hopping love letter to the City of Lights, Taylor immediately recognized that it was a different sort of project for the filmmaker. "I thought it was unique, for sure," she says. "It was very exciting; it's a movie he's been trying to make for a few years and was very eager to do, and all of the ingredients fell together perfectly this time."
The first—and perhaps greatest—challenge was finding an actor who could properly inhabit the central role of mild-mannered screenwriter Gil. Taylor says she and Allen talked for a month about many possible actors and angles for the part. "We really wanted to set the tone of the film in a particular way," she recalls. "Sometimes people tend to think that the male protagonists in Woody's movies are so much Woody's voice that it becomes complicated for the actor. I think what worked so beautifully with Owen Wilson is that Owen Wilson has his own voice, and his own voice was a really interesting way of expressing Woody's thoughts and feelings and getting underneath his humor. He's not typical of what a Woody guy would be."
Luckily, Wilson responded immediately to the script—even though he had a limited amount of time to read it. Sending the script "is always a bit of a challenge with Woody," says Taylor. "Basically, someone had to drive it to Owen Wilson's house and pick it up a few hours later."
After that initial challenge, casting Wilson's leading ladies—Rachel McAdams as prickly fiancée Inez and Marion Cotillard as sultry muse Adriana—was a no-brainer. "Woody has always wanted to work with Rachel McAdams and it's never worked out," Taylor says. "And then of course Marion Cotillard was sort of our ideal for that part."
Another massive casting feat soon presented itself, however: populating the vibrant 1920s Paris to which Wilson finds himself transported and that features a number of well-known historical figures. "It was a huge research undertaking," says Taylor. "Everything had to be done accurately to the year. You had to know how old, say, Ernest Hemingway was in that year. It was done quite meticulously with photographs and in some cases with old footage."
Though Taylor wasn't necessarily looking for well-known faces, certain A-list actors were obvious choices, such as Kathy Bates as Gertrude Stein or Adrien Brody as Salvador Dalí. "You couldn't not think of him for that," the CD says of Brody.
In other cases, less-established performers proved to be perfect fits. Taylor spotted Corey Stoll, who cuts a charismatic, scene-stealing figure as Hemingway, in a Broadway revival of "A View From the Bridge" opposite Liev Schreiber and Scarlett Johansson. "He played their Italian immigrant cousin who comes to the United States, and it's a really difficult part, 'cause it's an old-fashioned, kind of cumbersome role," Taylor says. "He was so fantastic, and he just brought it to life. Woody went to see it too, and then [Stoll] came in and read, and he just knocked us out. That was a fun find."
Taylor proudly notes that Stoll and Tom Hiddleston, who was cast as F. Scott Fitzgerald, have gone on to higher-profile roles: Stoll as one of the lead detectives in "Law & Order: LA" and Hiddleston as vengeful Loki in "Thor" and the upcoming "The Avengers."
Back in the realm of present-day Paris, Taylor cast beloved character players Mimi Kennedy and Kurt Fuller as Inez's very American parents. "I've known both of them for quite a long time," the CD says of the actors. "I knew Mimi Kennedy years ago when she was in New York, and when I saw her in [the film 'In the Loop'], I thought, 'Oh, my gosh, she's grown up to be this really interesting persona.' They both felt so real. They didn't feel actory."
The casting team rounded out the ensemble with an interesting mix of well-knowns (Michael Sheen as a know-it-all friend), up-and-comers ("Inglourious Basterds" supporting player Lea Seydoux as a charming antiques dealer), and offbeat choices (French first lady and recording star Carla Bruni as a museum guide) to give the entire film a fresh, unique feel.
Says Taylor, "From a casting director's standpoint, it was very satisfying because we used a wonderful combination of new people and people who are quite well-known but were doing things that people haven't seen them do before. It was a fun balance."
Casting Directors: Juliet Taylor, Patricia DiCerto, and Stéphane Foenkinos
Director: Woody Allen
Writer: Woody Allen
Starring: Owen Wilson, Rachel McAdams, Marion Cotillard, Kathy Bates, Adrien Brody, Michael Sheen, Carla Bruni, Kurt Fuller, Mimi Kennedy, Corey Stoll
The Pitch: A young writer (Wilson) re-evaluates the state of his life when he's transported back in time to the 1920s while vacationing in the most romantic city in the world: Paris, France.To read Back Stage's complete coverage of Awards Season, please get our FREE SAG Nomination Committee Guide. Or follow all our daily coverage with Back Stage's new online Awards Season section.