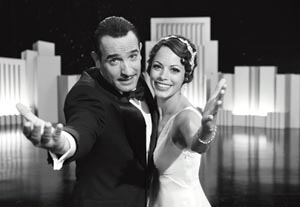 On paper, "
The Artist
" sounds like a risky proposition: a black-and-white silent movie starring two French actors who are virtually unknown in the United States. When casting director
Heidi Levitt
described the idea to her family, they were less than impressed. "They were like, 'Really?' Rolling their eyes," Levitt recalls with a chuckle. "But I thought, 'Isn't this cool?' Ironically, I feel like this is the movie I've done most recently that I think is really going to open in big theaters. I was thrilled with what it was. It was totally different from anything I had seen."
When Levitt signed on, the two central roles—charismatic silent-film actor George Valentin and idealistic wannabe starlet Peppy Miller—were already filled. Filmmaker Michel Hazanavicius penned the script with French stars Jean Dujardin (who won the best actor award at this year's Cannes Film Festival for his turn in "The Artist") and Bérénice Bejo in mind; he'd worked with both actors previously and is married to Bejo. "He wrote it for them—it's a love letter, in some sense," Levitt says.
Levitt's primary focus, then, was casting the multitude of Hollywood players who surround George and Peppy as they fall in and out of stardom. "There was a feeling that we were unearthing characters, because the film wasn't so dependent on stars," the CD recalls. "And when we cast these other lead characters, I'm so pleased that we didn't go the route of 'Here's the Hollywood name just showing up as the studio head.' We went with fantastic, well-known actors, but they were the actor's actor."
Levitt and the filmmakers made wish lists of people they thought could truly embody the various roles, actors who had to be able to convey a fully rounded character in a short period via the silent-film medium. "With this movie," she says, "the supporting characters are only in it for a little bit, so you want to find people who you feel are going to pop."
She was also looking for actors with a period-appropriate aesthetic—like Penelope Ann Miller, who plays George's icy wife. "You had to imagine actors who could be in that period look, and there's this older-soul quality to her," says Levitt. "She had such enthusiasm when we first met, and then when she auditioned for it, it was really about exploring what her character is in that time frame, and she completely embodied it."
Levitt's initial lists also included such high-profile names as John Goodman, who portrays a blustery, cigar-chomping studio head, and James Cromwell, who plays George's loyal driver-assistant. Both actors were sent the script, connected to it immediately, and jumped on board. "Actors responded yea or nay very quickly," says Levitt. "I feel like ultimately everyone fell in love with the idea of doing a silent film, but there's a risk in it: Is it going to come out campy? I think we kept things incredibly real. They all came in and just jumped into it with such gusto."
In addition to Goodman, Cromwell, and other well-knowns such as Malcolm McDowell (as an expressive cohort of Peppy's), Levitt also cast some of her favorite character actors—including Beth Grant, "Borat" sidekick Ken Davitian, and Missi Pyle—in bit roles.
Pyle, in particular, leaves a lasting impression as the studio head's diva of a girlfriend. "I'm a fan," Levitt says. "She has this incredible presence. She's someone who has such amazing comedic timing, and also has this sassy kind of presence that you knew was going to read. 'Studio head's girlfriend'—you expect the young blonde or whatever. We went a bit against the grain. She's not the demure starlet. She's a dame."
Levitt was also thrilled to cast Bitsie Tulloch, now starring on NBC's "Grimm," as an actor who stars opposite George in one of the film's many movies-within-the-movie. "I've been aware of her for a while," Levitt says. "I had always admired her and cast her before in smaller roles. She's always been someone where I've been waiting to see what was going to happen with her. It was an interesting opportunity to cast somebody who isn't a movie star yet but has a star quality."
Ultimately, Levitt's goal was to put this kind of care and detailed thought into every single bit of the film. "It was a casting dream putting together this amazing quilt," she says. "People who see the movie appreciate that with every little part, it was really about painting the right picture and creating the right characters."
Casting Director: Heidi Levitt
Director: Michel Hazanavicius
Writer: Michel Hazanavicius
Starring: Jean Dujardin, Bérénice Bejo, John Goodman, James Cromwell, Penelope Ann Miller, Malcolm McDowell, Missi Pyle
The Pitch: A silent-movie star (Dujardin) and a plucky young dancer (Bejo) find their fates inextricably linked during the advent of "talkies" in 1920s Hollywood.To read Back Stage's complete coverage of Awards Season, please get our FREE SAG Nomination Committee Guide. Or follow all our daily coverage with Back Stage's new online Awards Season section.