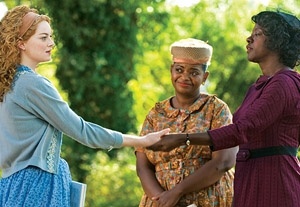 "We had an embarrassment of riches. A lot of people wanted to be a part of this film," says Kerry Barden of casting the adaptation of Kathryn Stockett's best-selling novel "
The Help
."
"There was a lot of momentum on the project, and people who would normally have just taken a meeting with the director were willing to read," adds Paul Schnee, who has been Barden's casting partner since 2008 and whose credits with Barden include "The Visitor," "Pineapple Express," and the upcoming musical "Pitch Perfect." Among those willing to audition was Bryce Dallas Howard, who was cast in the villainous and comedic role of Hilly Holbrook, a racist snob who gets what she deserves. Says Barden, "Bryce came and read, and we were howling with laughter because she was so funny. She was so great. She [set] the bar at that point. You would have to beat her audition to be able to get this role. Because she nailed it, she ended up getting it." Meanwhile, many fine actors, such as Sissy Spacek (as Hilly's mother), Cicely Tyson (as Skeeter's beloved maid, Constantine), Aunjanue Ellis (as Yule Mae Davis), Dana Ivey (as Gracie Higginbotham), LaChanze (as Rachel), Roslyn Ruff (as Pascagoula), and David Oyelowo (as Preacher Green), were happy to take smaller roles, just to be a part of the project.
As for the lead roles of Eugenia "Skeeter" Phelan, the white writer, and Aibileen Clark, the black maid who confides in Skeeter, Barden says screenwriter-director Tate Taylor was interested in finding actors who best personified the characters, even if they didn't perfectly match the physical descriptions in Stockett's novel. Skeeter, for example, is described as tall, plain, and awkward—not qualities associated with Emma Stone ("Crazy, Stupid, Love," "Easy A"). "Tate really just liked her," explains Barden. "He had always seen Skeeter as a young Joan Cusack, and even though in the book she's kind of the homely, gawky girl who is never going to be the beauty, and Emma's a gorgeous person, Tate just really, really loved Emma's energy."
Likewise, when casting the role of Aibileen Clark, who is described as chunky, Viola Davis ("Doubt," "Eat Pray Love") is not probably someone that the novel's readers immediately pictured. However, as Barden explains, Davis fit the bill when it came to possessing the emotional qualities in Aibileen. Barden says, "She's an incredible actress, as we all know, and certainly found some interesting layers to Aibileen that made us realize how, even though Viola is not as Aibileen is physically written, she was great."
As for casting Octavia Spencer in the breakout role of the forthright Minny Jackson, Barden says although Taylor was always sure of Spencer (a longtime friend of Taylor's and Stockett's), DreamWorks, which produced the film, needed to be convinced.
Says Barden, "DreamWorks wanted to make sure that they felt as comfortable as Tate and quite frankly all of us, the casting office, felt in casting Octavia. We had cast Octavia a couple of times before. I've known Octavia and Tate and Brunson Green, the producer, for many years. So we were delighted that we were working with Tate on this first big film of his. We'd done his independent film [2008's "Pretty Ugly People"] as well, which also has Octavia in one of the leads. We were confident that she would be fine. The studio did want her to audition, which she happily did. And also she was kind enough to be our reader in Los Angeles for most of the audition sessions."
As for casting the juicy role of bombshell Celia Foote, Minny's latest employer, Jessica Chastain ("The Tree of Life") was someone Barden and Schnee suggested as a fit, but a number of other actors were considered before she got the role. Says Barden, "We were simultaneously casting a film called 'Texas Killing Fields' that Jessica is in. I had not met her at that point, because we came on to the project when three of the leads were already attached, one of them Jessica. So when it came time to start auditions for Celia, I knew that she was shooting in Louisiana, and I had the shooting schedule. So I called her manager and said, 'Can she come in during this four-day time period when she's not shooting and audition for us?' And he said, 'Yes.' We were pretty deep into the process at that point. We had done New York auditions with a lot of people, and also L.A. auditions. So she flew in and read, and when she was finished with her reading, we all had wet faces because she was so stunning. We kind of knew at that point that she was our choice. We ended up doing screen tests for her character and for the Elizabeth Leefolt character [played by Ahna O'Reilly]. So Jessica did not only audition but had to come back and test for the studio. After the test, there was a lot of discussion on her and the other girls that had tested, and it finally was clear that we were all on the Jessica Chastain team."
Barden particularly enjoyed the on-location casting for "The Help." He says, "I hadn't done location casting in probably a decade, and I went down to Mississippi and did the location casting with the person that was on location down there, Kim Petrofsky. So I got to meet every one of those wonderful faces that are in the film, including the twin little girls [Eleanor and Emma Henry] that play Mae Mobley. And that was a challenge, trying to find a little girl that could have that much humor and pathos. We did several open calls, and those girls came to the open call in Jackson, [Miss]."
Other standouts discovered through open calls were most of the women who play the maids that show up at Aibileen's house to offer help sharing their stories for Skeeter's book. Says Barden, "They were just women who were locals in Greenwood, Miss., who had been brave enough to come to an open call because they wanted to be a part of the film. They came in and auditioned two or three times, some of them. So they have little or no acting experience."
As for collaborating with Taylor on this project, Barden and Schnee—who also worked with casting associates Allison Estrin and Rich Delia on it—only had good things to say. Says Schnee of Taylor, "He's been a working actor a long time before. So he has a sensitivity and a feel for what it's like from the actors' perspective." Adds Barden, "One of Tate's things was casting Southern people, and so most of the people in the film had some sort of Southern heritage, whether it was Bryce's grandparents being from Mississippi or Sissy being from Virginia or all the boys being from the South—like Chris [Lowell, who plays Stuart] and Wes [Chatham, who plays Skeeter's brother, Carlton]. Tate wanted to keep everything authentic. He wanted to make sure that he honored the vision that Kitty had in the book, along with making sure that nobody said, 'Oh you cast the wrong person because she's not this, that, or the other.'"
Casting Directors: Kerry Barden and Paul Schnee
Director: Tate Taylor
Writer: Tate Taylor, based on the novel by Kathryn Stockett
Starring: Emma Stone, Viola Davis, Octavia Spencer, Jessica Chastain, Bryce Dallas Howard, Ahna O'Reilly, Allison Janney
The Pitch: Amid the civil rights movement, an aspiring writer (Stone) pitches a book about African-American maids and the Southern white women who employ them.To read Back Stage's complete coverage of Awards Season, please get our FREE SAG Nomination Committee Guide. Or follow all our daily coverage with Back Stage's new online Awards Season section.