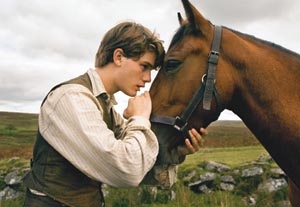 Jina Jay felt a special connection to "
War Horse
" before she even started casting it. Her family has always been a fan of English novelist Michael Morpurgo, and her children have read, and loved, several of his novels, including "War Horse." She had seen the National Theatre production of the play and had found it "stunning." Also, for years Jay has driven by the Animals in War Memorial on Park Lane in London—which honors all animals who served, suffered, and died in the wars of the 20th century—always feeling moved by it. "It's my favorite memorial in London," Jay says. It seems she was the perfect person to help director Steven Spielberg achieve his vision.
When she started casting the film, Jay realized the challenges would exceed those of many other films. "The scope of 'War Horse' was enormous and complex," she says. "There were 80-plus roles requiring very diverse characters and backgrounds: multiple European nationalities aged 7 years through 70 years. Plus, all the cast needed to be confident around horses, and some needed to ride very well."
At the time, there had been three National Theatre cast changes for the play, and she felt each cast was special in every role. "We tried hard to explore as many of the cast as possible," she says. However, some actors were not available, and many could not be considered because the filmmakers wanted to cast the French and German roles with actors who were native to France and Germany.
The biggest casting challenge, and the chief focus of those casting the film, was the main role of Albert. "This was a role where it felt natural an unknown may end up being cast," Jay says. But time was short. The actor needed to start prep in June, so she had only about three or four months to find the right person. Jay credits the help of an "amazing" team of young casting directors—including Dixie Chassay, Kelly Hendry, and Nick McGinley—with being able to find the perfect Albert. The team searched all over the United Kingdom and Ireland. "Each made very valuable contributions, and their support and solidarity was of great significance in the casting process overall," Jay says. "We also had great international support from casting directors Simone Baer and Alexandra Montag in Germany, and Antoinette Boulat in France." All readings, interviews, and videos were reviewed at Jay's office every afternoon or evening. They met with hundreds of actors ages 15 to 25, some of whom, Jay says, were cast in other roles.
Jeremy Irvine, a relative unknown who had graduated from the London Academy of Music and Dramatic Art the year before, landed the coveted lead role. "Irvine's agent, Aileen McEwan, emailed me a beautiful portrait, asking if he could come read," Jay recalls. "My assistants Alex Duxbury and Katy Lake probably read 12 young actors the day Jeremy first read. His was the [best] reading of the day, from their point of view. They were right; his interpretation of the material was enchanting, capturing all the mess and loneliness of the teenage Albert, plus his profound joy and love for [the horse] Joey. He shone brighter each time he came back, which included taking him to stables to read scenes and explore chemistry with Joey. Steven clocked him from the word go, and whilst we were all committed to the process of leaving no stone unturned, Jeremy stayed with him as no other did."
A role that was much easier to cast was that of Grandfather. French actor Niels Arestrup was the first one offered a part and the only actor even considered for the role. "Steven has admired his work for years," say Jay. The role of Albert's mother, Rose Narracott, went to Emily Watson ("Breaking the Waves," "Angela's Ashes," "Punch-Drunk Love"), whom Spielberg was also a big fan of. "Focusing on Emily Watson is never hard; her work is stunning, plus she is so modest and truthful," says Jay.
Jay looks back on her experience casting the film fondly: " 'War Horse' was a wonderful project to work on."
Casting Director: Jina Jay
Director: Steven Spielberg
Writers: Lee Hall and Richard Curtis, based on the novel by Michael Morpurgo
Starring: Jeremy Irvine, Emily Watson, David Thewlis
The Pitch: During World War I, a boy's horse is sold to the cavalry and sent into the trenches. The horse serves on both sides of the war before ending up in no-man's land. When the boy (Irvine) becomes a young man, he heads to France to find the horse and bring him home.
To read Back Stage's complete coverage of Awards Season, please get our FREE SAG Nomination Committee Guide. Or follow all our daily coverage with Back Stage's new online Awards Season section.