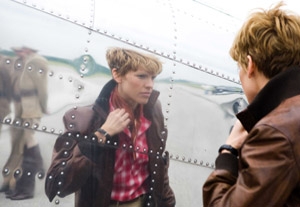 Despite the differences in nationality and era, the main character and the director of the Fox Searchlight biopic "Amelia" share many traits. Indian-born director Mira Nair and world-famous aviatrix Amelia Earhart grew up in rural areas and achieved international fame. Before Earhart mysteriously disappeared on a flight over the Pacific, she captured the imagination of a Depression-ridden world by becoming the first woman to fly across the Atlantic solo. Nair is one of the few female directors to maintain a steady international career, with such diverse films as "Salaam Bombay!," "Monsoon Wedding," "Vanity Fair," and "The Namesake."
Nair thought Hilary Swank, who won Oscars for her performances in gender-defying roles in "Boys Don't Cry" and "Million Dollar Baby," would be ideal for the role of Earhart. "Hilary is an intuitive daredevil," observes Nair. "She loves the roller coaster of life. She would happily jump out in a parachute and come down just like Amelia, with legs swinging wildly."
Swank says the role was tailor-made for her: "Amelia was such a trailblazer, and I think we have Amelia to thank for girls today feeling like it's okay to follow a dream. She had a quality that I admire: the drive to follow her heart, no matter what, even in a man's world. What I think the movie shows is that she lived life on her own terms, she believed in having fun and doing what you love and also in helping other people, and she accomplished a lot because of all of that."
Yet Swank also knew the role was a risk. "There's not a lot of liberty you can take with a character like Amelia," she says, "because she is such an icon and we have seen so many images of her that they are almost burned into our psyches. I think the challenge for me was to just fully commit to what I believed she was like."
Also starring are Richard Gere as Amelia's publicist husband, George Putnam, and Ewan McGregor as aviation executive Gene Vidal, with whom she had an affair. "Of course, Richard always has great charisma," says Nair. "But I think he also now exudes a real sense of calm and authority, which was a great match for this role. He gave a very meditative type of performance, and there was a palpable chemistry that emerged between him and Hilary." The director adds, "Ewan is so dashing. He exudes that kind of cool Cary Grant grace and formality that you don't see anymore, yet at the same time he's very hip and modern, which is what we wanted for Gene Vidal."
Nair worked with veteran casting director Avy Kaufman ("The Sixth Sense," "Brokeback Mountain") in rounding out the rest of the cast. One of the more unique casting choices in the film is British actor Christopher Eccleston as aerial navigator Fred Noonan, who disappeared with Earhart in her legendary last flight. Eccleston is best known for his stint as the time-traveling hero in the long-running BBC sci-fi series "Doctor Who."
"I've adored Chris Eccleston since his first roles in 'Jude' and 'Shallow Grave,' and I think he's one of the most extraordinary actors," says Nair. "He looks blindingly like Fred Noonan and has sex appeal, but most of all Chris just has an absolute natural ease with the camera and with himself. He's very earthy and independent, yet without ego, as Fred was. Fred had all sides to him. He was both a hard drinker and the best navigator in the world, and Chris nailed that contrast. I think the scenes with Fred and Amelia at the end of the film are truly moving and memorable."
Another interesting choice is Cherry Jones, who goes from playing a chief executive to playing first lady. The Broadway veteran recently won an Emmy Award for her performance as the president on "24" and in "Amelia" plays first lady Eleanor Roosevelt, a friend of Earhart's.
Director: Mira Nair
Writers: Ronald Bass and Anna Hamilton Phelan, based on the books "East to the Dawn" by Susan Butler and "The Sound of Wings" by Mary S. Lovell
Starring: Hilary Swank, Richard Gere, Ewan McGregor, Christopher Eccleston, Cherry Jones
The Pitch: Fearless aviatrix Amelia Earhart (Swank) takes the world by storm when she crosses the Atlantic in a daring solo flight and continues to make headlines around the world, until a fateful round-the-world trip ends in tragedy.