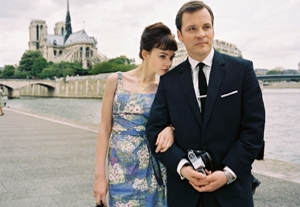 Lucy Bevan was single when she got the call to cast "An Education." When she finished her work on the film, she had married and given birth to a child. "So that puts the amount of time and effort behind the casting process on an independent film like this into some sort of perspective," says the British casting director ("St. Trinian's," "The Duchess").
The film follows 16-year-old Jenny as she goes from bright, bored schoolgirl to pseudo-sophisticate, thanks to an "education" that comes courtesy of David, a man in his 30s. With only one actor pre-cast—Emma Thompson, a friend of screenwriter Nick Hornby, who had agreed to play the closed-minded headmistress—Bevan rolled up her figurative sleeves and began the hunt for a David, her greatest casting challenge in this film.
A number of British actors didn't want to play the unheroic figure who is having an affair with a much younger, indeed underage, woman. Bevan latched on to the idea of casting American actor Peter Sarsgaard ("The Dying Gaul"). Over a weekend, her husband, film editor Wojciech Duczmal, helped her cut together scenes of Sarsgaard's work. "I was very determined to cast him," says Bevan. And her work and determination paid off. Looking back now at the casting of Sarsgaard, the film's producers Finola Dwyer and Amanda Posey say he has brought something different and unpredictable to his body of work—"a slightly unsettling quality that you couldn't quite put your finger on," notes Dwyer. Here the actor evidences mingled airs of loneliness, secrecy, desperation, and boyishness that make David surprisingly watchable.
Dwyer and Posey say they never held open calls for Jenny because they were unlikely to go with an untested actor. Accordingly, Bevan invited agents to submit their clients, but the casting director also recalled watching a young actor at London's Royal Court Theatre in "Forty Winks" in 2004—and then continuing to watch that young woman's progress over the years. The actor was Carey Mulligan, who won the role of Jenny and who plays her indelibly.
When Mulligan read for "An Education" with helmer Lone Scherfig, Posey was in the room. As she recalls, "We had tears in our eyes because Carey performed the scene so faultlessly and with such feeling." Mulligan also read with Sarsgaard, as did other young women under consideration. "He kindly took the time to come in to read with a short list of girls," Bevan reports. "He is a very generous actor and so reassured the girls who were understandably nervous.
"I particularly love casting young actors, as you have the privilege of getting to know them when they are straight out of college and/or drama school and they are all untainted and rough around the edges," continues Bevan. "I remember Peter Sarsgaard getting frightfully embarrassed when one of the eager young Jenny contenders showed him pictures of the lingerie she had just designed at art school on her iPhone. I think he got a bit hot under the collar."
Meantime, while the filmmakers were looking to fill the role of David's best friend, Danny, Dwyer met Dominic Cooper ("The Duchess") at a party. As Dwyer recalls, "He was utterly charming and a good dancer. It certainly helped to see how right he might be for the suave, alluring Danny." Cooper's work in the film is a blend of that suaveness with eminent empathy for the bedazzled Jenny.
Bevan is understandably proud of her work on the film, but when pressed to name her special triumph she points to the choice of Rosamund Pike ("Pride & Prejudice") to play Danny's chic and savvy girlfriend. "I am particularly proud of championing her great wit, when she is often cast so seriously," says the casting director.
"When I'm casting a film, the guy
with one line at the petrol pump is as important to me as the girl with the leading role," Bevan continues. "If an actor is not believable in one scene just for one beat and so takes the audience out of the world just for an instant, then
to me that is a failure. In the context of this film, I am proud of every decision we made."
Casting Director: Lucy Bevan
Director: Lone Scherfig
Writer: Nick Hornby, based on the memoir by Lynn Barber
Starring: Carey Mulligan, Peter Sarsgaard, Dominic Cooper, Rosamund Pike
The Pitch: In 1960s suburban London, the life of a teenage girl (Mulligan) changes when she meets a man nearly twice her age (Sarsgaard).